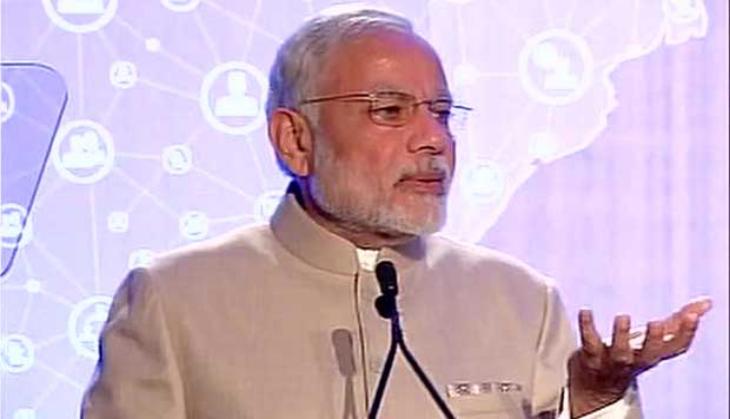 Prime Minister Narendra Modi on Sunday addressed the nation through his Mann ki Baat programme.
PM Modi commenced the 19th edition of Mann ki Baat with a discussion on the climate, the ongoing drought in several areas of India and the need for water conservation in the country. 
The former chief minister of Gujarat referred to a village in Ahmednagar where the villagers have decided to change the entire cropping pattern so that water could be conserved for summer. He spoke about the advantages of alternative methods of irrigation. 
"Drip irrigation, sprinkler irrigation are highly effective. They not only help conserve water but also save a lot of labour," he said.
He explained that in the same village in Ahmednagar, have abandoned water-intensive crops like sugarcane and managed to conserve sufficient quantities of water.
Talking about the Panchayati Raj Diwas which falls on 24 April, the PM said that, "it has helped reach democratic values in villages."
Here are the important points made by PM Modi while talking about conserving water:
- We should make full use of the monsoons and raise the water tables.
- All efforts must be made to conserve every single drop of water. We should do whatever we can in that regard.
-  The monsoon is predicted to be above 106-110 per cent this year. This is like a soothing message of peace. This brings hope, but this also presents a challenge to us, in terms of water conservation. Can we take a moment to conserve water from here on?
- Many times, due to several factors like encroachment, silting and blocks in the water channels, reservoirs store far less water than their capacity.
On the Ganga action plan, he said:
-We should all work together to clean the Ganga. The government is making numerous efforts in this regard.
- The Ganga is an essential water resource. We have to become a changing agent to conserve water and promote cleanliness drive there.
- We will all have to be change agents for the cleaning of the Ganga.
Mentioning Panchayati Raj Diwas, the Prime Minister said:
- On April 14, we celebrated Babasaheb Ambedkar's birth anniversary and today, we are celebrating Panchayati Raj Diwas.
-It has helped democratic values reach villages.
Answering a question about education asked by a Sharmila from Mumbai, PM Modi said, "These days, if parents have any one big dream, it is about the education of their children. Our country's countless governments have concentrated on the education sector, and each government has tried to do it in their own way."
"We have to now concentrate on providing quality education. We have shift focus from only 'schooling' to 'learning." he added.