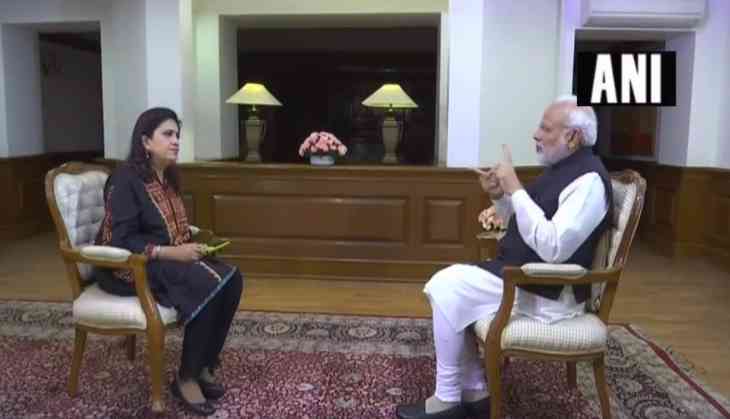 Prime Minister Narendra Modi has spoken on various issues for which his government criticises in his first interview of 2019.
He spoke on a variety of issue from demonetisation to surgical strike, and from Ram temple to triple talaq and the others.
In his nearly 95-minute long interview with agency ANI, PM Modi also slammed Rahul Gandhi-led party Congress which has announced to waive the loan of farmers that party had announced in its three winning states in the recent state assembly elections.
Check out what questions answers PM Modi has given in his recent interview:
PM Modi on Surgical Strikes:
Talking on the 'Surgical strikes', PM said that he was full of anxiety while the operation was on. He told to ANI that he has given the clear orders to Indian Army whether they get success or failure, don't think about it. He asked them to come back before the sunrise.
He added that 'I knew it was a big risk.' PM Modi said that the biggest consideration for him was the safety of Indian soldiers.
PM Modi wait for soldiers till the morning until the last man returned back from Pakistan after a surgical strike.
PM Modi on Ram Temple controversy:
Talking about the Ram Temple issue, he said that it was a part of the BJP manifesto. He added that the party was committed to finding a solution to work on the construction of the temple within the framework of the Indian constitution. He added that the government will work on it after the judicial process gets over.
"After the judicial process is over, whatever will be our responsibility as the government, we are ready to make all efforts," PM Modi added.
PM Modi on Triple Talaq and Sabarimala:
Prime Minister Narendra Modi has refused to compare the triple talaq bill to the Sabarimala issue. He told that one matter was related to the matter of gender equality while the other was a matter of tradition.
PM Modi told that many countries have banned the practice of triple talaq, therefore, it is not a matter of religion or faith. 'Even in Pakistan, Triple Talaq is banned. So it is an issue of gender equality, a matter of social justice,' he told.
He urged to keep the two issues separately.
While speaking on Sabarimala temple issue, he said that there are several temples in India, which have their own traditions where men can't go. And men don't go. On Sabarimala issue, the Supreme Court's woman judge has made several observations. He said that there is no need to attribute those to any political party.
'As a woman, she has made some suggestions. There should be a debate on that as well sometimes.'
PM on demonetisation:
On demonetisation issue, he has rejected the claims that the move had given a shock to the public in 2016. PM Modi told that 'it wasn't jhatka'. He told that 'we had warned people a year before that if anyone has such black money then they can deposit it, pay penalties and you will be helped out.'
PM Modi said that 'people thought that Modi is also like the other leaders so very few have come out to extend their support to the government's order.'
Watch the full interview of PM Modi on various issues:
#WATCH PM Narendra Modi's interview to ANI's editor Smita Prakash https://t.co/k2qHD2ULhN

— ANI (@ANI) January 1, 2019
Also read: Rahul Gandhi takes jibe at PM Modi through imitation, says, 'Vanakam Puducherry'