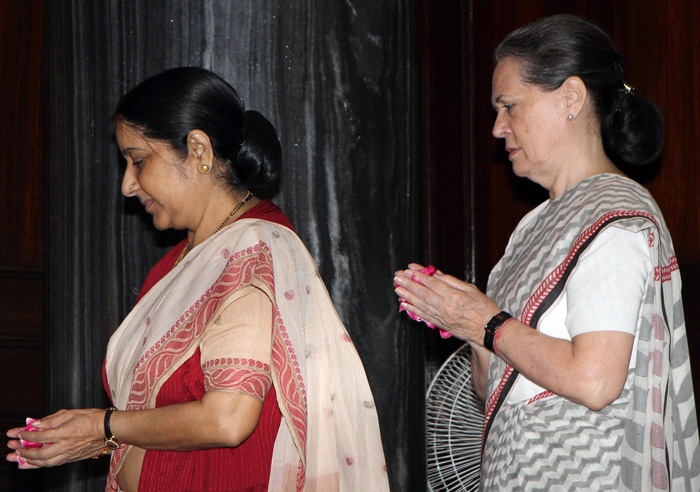 They have played the roles of fierce political rivals and coy friends for many years. So when Sonia Gandhi calls Sushma Swaraj "an expert in theatrics", don't miss the latent histrionics in the barb.
Even a cursory look into the history of the oscillating camaraderie and bitterness between the two political stalwarts will give away why Sonia Gandhi chose Sushma as a target to get back to her aggressive best.
1999: The year Indian National Congress President Sonia Gandhi formally entered electoral politics. After a controversy over office-of-profit, Sonia decided to fight her debut election from two places, the family seat of Amethi and Bellary in Karnataka, both traditionally Congress seats. The BJP decided to pit Swaraj as a bharatiya nari against the firangi bahu. After a high-pitched political campaign, Gandhi polled 51.7 percent of the vote, Swaraj coming not too far behind with 44.7 percent.
2004: This year would mark the surprise victory of the Congress in the general elections with Sonia Gandhi as its leader. But apart from strongly placing Gandhi on the political map, the year is also remembered for the heavily publicised and emotionally charged statement made by Swaraj. Sushma threatened to shave her head, don a white saree and eat groundnuts (symbolically mourning) if Sonia, the Italian-born Congress leader, became prime minister. Sonia chose not to become the Prime Minister, saving us the sight of a bald Swaraj.
2011: On a global platform, Sonia Gandhi would call Sushma Swaraj, leader of the Opposition, a woman of substance. While delivering the London Commonwealth lecture on Women in Parliament, she said that in India, the very important position of Leader of Opposition was held by a woman.
2014: In the 15th Lok Sabha Session, Swaraj praised Sonia Gandhi's gracefulness and applauded her government for having passed some crucial bills like the bifurcation of Andhra Pradesh and Telangana, the street vendor bill and the land acquisition bill despite several disruptions.
2015 (budget session): The two shared many light moments on and off camera. In the first few months of the Modi government, Swaraj was the darling of the Congress. Her conduct in Parliament won her accolades from the Opposition, especially for the land swap deal and for acknowledging that the Modi government was only taking forward what had been accomplished by the UPA government.
However, with the Lalit Modi row exploding, Sonia Gandhi didn't think twice before latching on to the opportunity to bring the government down.
2015 (Monsoon Session): Swaraj made an emotional statement in Parliament, justifying helping scam-tainted IPL founder Lalit Modi for his wife's sake. She asked Sonia Gandhi rhetorical a rhetorical -- what would she have done if she were in Swaraj's place? The very next day Gandhi responded that she wouldn't have done what Swaraj did. and that Swaraj was an expert in theatrics.