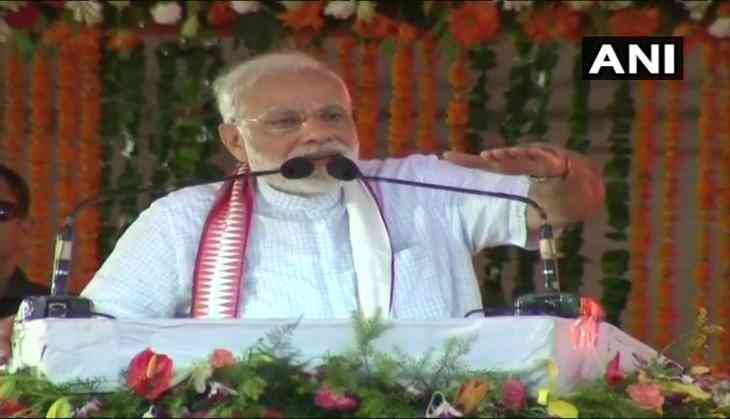 The Prime Minister Narendra Modi- led BJP government to complete its 4 years in the power in the Centre. The BJP-led National Democratic Alliance has increased its electoral numbers across the country from just eight states in 2014 to 20 states in four years of PM Narendra Modi's leadership. Today while speaking in a public rally in Odisha's Cuttack, PM Narendra Modi greeted people and said, "It is my good fortune that I get the opportunity to greet my 125 crore countrymen from the land of great Lord Jagannath." PM Modi said, BJP is not confused, but committed government at the Centre.
PM Modi touched upon decisions taken by the Central government such as surgical strikes. He said, "Decisions like surgical strikes are only taken when there is a committed, not confused, government at the Centre. A decade-old issue like 'One Rank One Pension' was only cleared when a committed government took the right measures."
On the BJP-led NDA government's fourth anniversary, PM Modi said, "In these four years, the 125 crore Indians have come to believe that our India can change. Today, the nation is going from 'Kala Dhan to 'Jan Dhan', from bad governance to good governance."
#WATCH: While addressing a rally in Cuttack on completion of 4 years in power, PM says, 'Chaos was caused for some when we made strict laws against black money, it made many come together & stand on the same stage, those accused in big scams are coming together now.' #Odisha pic.twitter.com/7mTY7Ok1O7

— ANI (@ANI) May 26, 2018
"Till 2014 39% of the population had access to sanitation facilities, today the figure is over 80%. From independence till 2014 there were around 6 crore toilets in the country but in last four years 7.5 crore toilets have been made", says PM Modi in Odisha's Cuttack.
"Why didn't Congress realise that the poor are not being entertained at banks? Why didn't the Congress ever see that the lives of poor people also hold value and they also need life insurance, said, PM Modi?
He further added, "Your aspirations, dreams and hopes are what keeps me going."
On Congress' decade-long rule in the Centre, the prime minister said, "It is important to remember the issues which the nation was facing four years ago, the atmosphere that prevailed back then. It is important to remember how much did the family, which ruled the nation for 48 years, cared for it."
The BJP's success in the national politics can be defined, is how it has snatched 12 states from Congress in the last four years while the NDA has had 14 electoral victories since Modi came to power. With just a year left for the 2019 Lok Sabha elections, the Congress is now heading to bring together all opposition parties to form an anti-BJP coalition. This coalition was witnessed in the oath ceremony of the Karnataka CM HD Kumaraswamy after BJP's BS Yeddyurappa stepped down from the chief ministership before facing the Floor Test.
As 2019 elections in on its way, the NDA has to face a key electoral challenge with three states— Madhya Pradesh, Rajasthan and Chhattisgarh, this is currently ruled by the BJP going to polls later this year.
The three assembly polls will be a tough test for the Congress, which is attempting to rediscover itself ahead of the 2019 Lok Sabha elections.
Also read: Four years of Modi government: Rahul Gandhi praises Modi government's four years works; gives A+ in these two achievements on his report card