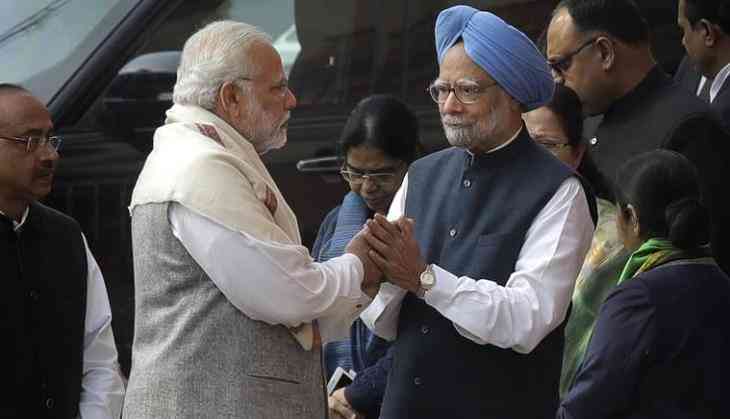 Narendra Modi and Manmohan Singh
India's former Prime Minister Dr Manmohan Singh has given advice to the incumbent PM Narendra Modi that he must exercise some restraint while he visits the states not ruled by the BJP.
Former PM Manmohan Singh said that PM Modi should lead by setting up example and that it was unfair and obligatory for the Prime Minister of India to use terse language and he must avoid using it.
He said that "My advice to the prime minister is that he should exercise due restraint becoming of the office of the prime minister."
Former PM added by saying, "The prime minister, when he goes to states which are ruled by parties other than to which he belongs, I think, has an obligation not to use language of the kind which has now become a common practice."
PM Manmohan Singh said that Narendra Modi should ask the CM of Madhya Pradesh, Shivraj Singh Chouhan, whether the Center discriminates against them or not and also look at him as how he led the campaigning while being in the office.
Dr Manmohan said that "So what I would say is that the prime minister of the country must set an example... he is the prime minister for all citizens of our country and his conduct must be worthy and consistent with that obligation that he/she has as prime minister."
Former CM of Jammu and Kashmir attacked PM Modi for only talking about his mother and father, and leaving out the major issues with which the nation is grappling.
He said, "But what we are talking about? Meri maa ko gaali diya, mere baap ko gaali diya. Is that the level of the PM? I have never used my father and my mother in my language. As PM of this nation, he has to think in a bigger way."
Also read: Cleric, carrying live bullets, arrested by Delhi Police while visiting Delhi Chief Minister Arvind Kejriwal
My advice to PM is that he should exercise due restraint becoming of the office of PM.When he goes to states which are ruled by parties other than his,I think,has an obligation not to use the type of language which has now become a common practice:Former PM Manmohan Singh (26.11) pic.twitter.com/Dn0hrCDWza

— ANI (@ANI) November 26, 2018
But what we are talking about? Meri maa ko gaali diya, mere baap ko gaali diya. Is that the level of the PM? I have never used my father and my mother in my language. As PM of this nation, he has to think in a bigger way: Farooq Abdullah in Delhi (26.11.2018) https://t.co/dfLOYxbuUd

— ANI (@ANI) November 27, 2018