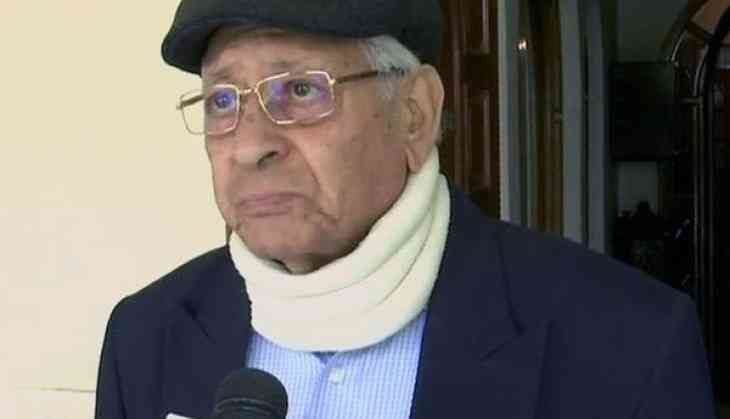 Former Attorney General of India Soli Sorabjee has hailed the Chief Justice of India's office's decision to propose the name of Justice Ranjan Gogoi as the next head of the judiciary of the country.
The CJI's office recommended Justice Gogoi's name on Saturday.
"He is the senior most judge after Justice Dipak Misra. So, he should take charge. I don't see any problem in that. There is nothing that will disqualify him from being the next Chief Justice. He is a very far-sighted judge. He keeps an open mind. He is a very fair judge. He is not at all bothered about what the government would feel. He is independent and that's what we want - independent, intelligent and courageous. That's what we want the Chief Justice of India to be and that's what Ranjan Gogoi is," Sorabjee told ANI.
Senior advocate K.T.S Tulsi also called it "great news."
"Firstly, it strengthens the judiciary. The convention is being followed. If it had not happened, it would have been a serious problem for not only the judiciary, but the state. I am glad that it is being done. Also, Justice Gogoi is one of the most outstanding Judges that you could come across. He is an intuitive judge. He makes up his mind in a matter of seconds. But, he is always open to changing his view if you are able to convince him. He is a brilliant judge in all fields," Tulsi told ANI.
If appointed, Justice Gogoi, who is the second senior-most judge in the court, will be the 46th Chief Justice of India and will replace the incumbent Dipak Misra, who will retire on October 2 this year.
As per protocol, the sitting CJI has to name his successor, after which clearance has to be sought from the Centre and then the President of the country.
It may be noted that Justice Gogoi, along with the other Justices Jasti Chelameswar, Madan B Lokur and Kurian Joseph, revolted against CJI Misra, following which the apex court was thrown into its biggest ever crisis.
Born in 1954, Justice Gogoi was appointed as a permanent Judge of the Guwahati High Court on February 28, 2001, and was elevated as a Supreme Court Judge on April 23, 2012.
(ANI)