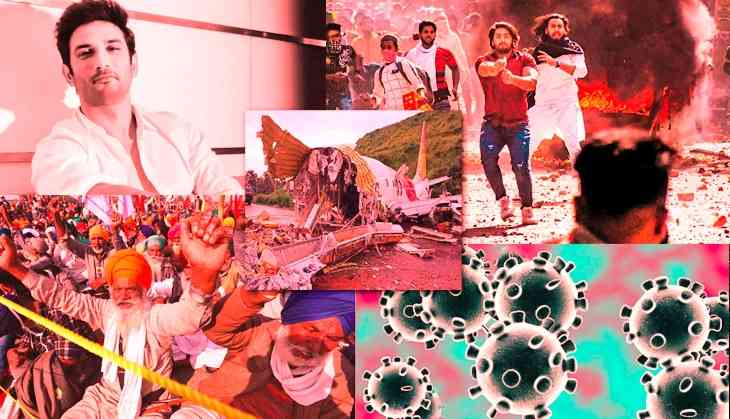 The year 2020 was supposed to mark the end of one decade. But this year had a couple of surprises hidden under its sleeves. Some of the surprises were received well, while others caught the world on the wrong foot.
Here are the main events of the year:
1) January 30: The COVID-19 pandemic was confirmed to have spread to India from China.The 1st case of COVID-19 was spotted in the state Kerala.
2) February 23 - 29: At least 53 people are killed in communal riots in parts of Delhi.
3) March 23: Prime Minister Modi announced a 21-day lockdown throughout India until 14 April to curb the spread of coronavirus.
4) April: India was under an extended lockdown throughout the month to check the spread of the pandemic.
5) May 5: Skirmishes began between India and China. Several Indian and Chinese soldiers were injured in a cross-border clash at the Nathu La crossing. About one hundred and fifty soldiers were involved in the face-off.
6) May 7: 13 people lost their lives in a gas leak incident at a chemical plant in Visakhapatnam, Andhra Pradesh.
7) June 14: Bollywood Star Sushant Singh Rajput found dead at his Bandra Residence in Mumbai.
8) June 15-16: 20 Indian army personnel including a commanding officer, are killed in action in the ongoing faceoff between India and China at LAC in the Galwan Valley of Ladakh.
9) July 3: 8 Policemen of the Uttar Pradesh police were martyred in an encounter with the gang of wanted criminal Vikas Dubey in Kanpur.
10) August 7: Air India Express Flight 1344 Crashed at Calicut International Airport, Kerala. At least 19 people lost their lives, including two pilots and 17 Passengers.
11) September 14 - Three Bills on agriculture reforms were introduced in the Parliament to replace the ordinances issued during the lockdown on June 5.
Also Read: Kriti Sanon dubs Sushant Singh Rajput death case saga as 'an unstoppable chaos'