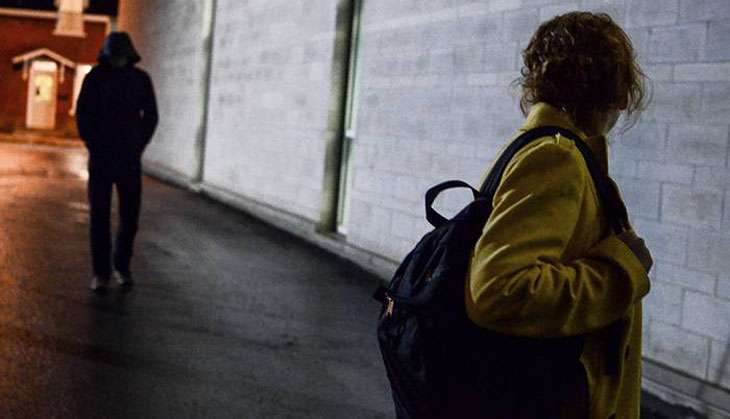 Stalking is more common than one might think. According to the National Records Crime Bureau, India's third-largest and second-most populous state, Maharashtra, and the national capital, New Delhi, saw a steep rise in cases of stalking amongst other states.
Delhi has registered over 1,214 stalking cases in 2015, while Maharashtra reported 1,399 stalking cases. Did you know Delhi reported 541 cases back in 2014? Noticeably, the stalking cases have more than doubled in Delhi.
In a horrendous incident, a 22-year-old girl succumbed to her wounds on 21 September after being stabbed over 20 times in broad daylight by her alleged stalker in Burari. What was even more shocking was that the CCTV camera footage recovered from the site shows onlookers doing nothing to stop the attacker, as the young woman bled to death.
The family of the victim alleged that the man had been stalking the young girl for over a year now. They even registered a complaint with the police against him six months ago but no futher action was action. Because, apparently, a warning was enough.
The Burari murder case has brought back memories of some of the most shocking cases of stalking in India. Take a look:
Priyadarshini Mattoo rape and murder case
The Priyadarshini Mattoo case is considered to be one of the most sensational murders of all time. Law student, Priyadarshini Matoo, 25, was found raped and murdered at her uncle's residence on 23 January 1996 in New Delhi.
Santosh Kumar Singh, her senior in college, who was found guilty of raping and murdering Matoo, had been stalking and harassing her for several years. He had even made indecent proposals to her. The stalking continued even after her family lodged an FIR against him.
According to reports, Santosh raped her, strangled her with an electric wire, and then bashed her face beyond recognition with a helmet. The Delhi High Court had sentenced him to death in 2006 but the Supreme Court later converted it into life imprisonment in 2010.
Mother of two stabbed to death in Delhi
Lakshmi, 28, paid the price for reporting her stalker. She was recently stabbed to death by her stalker in Delhi, two months after she registered a police complaint against him. The accused, Sanjay Kumar, was apparently harassing her for the last six years. Kumar, who had followed her on her way back home, attacked her when they crossed an abandoned park. He had also slit his wrist before attacking her. Both succumbed to their injuries.
Preeti Rathi acid attack case
Preeti Rathi, who hailed from Delhi, died of multiple organ failure after Ankur Panwar, her neighbour, threw sulphuric acid on her in May 2013.
Rathi's life and dreams were cut short after Panwar, who had been stalking her for years, attacked her as he was apparently unhappy with Rathi shifting to Mumbai. Panwar had also expressed his desire to marry Preeti, but the latter declined his proposal as she wanted to pursue her career. Ankur reportedly boarded the same train as Preeti and flung acid on her in Mumbai's Bandra Terminus. Preeti was accompanied by her father when the incident took place.
Preeti was rushed to the hospital but succumbed to the injuries sustained during the attack. He recently received a death sentence.
Teen national volley ball player hacked to death
A national-level volleyball player, Sangita Aich, was hacked to death by 20-year-old Subrata Sinha, also a national-level volleyball player in West Bengal. Sinha was apparently "furious" over Aich rejecting him several times in the past. Sinha battered her to death barely 100 metres away from her house. She was only 14 years old.
Infosys techie murder case
S Swathi, a software engineer, was hacked to death on 24 June while waiting to board a train to her workplace in Chennai. The attacker, Ramkumar, stayed close to Swathi's residence in Choolaimedu area and had stalked her for months before murdering her using a sickle. He slit his throat when the police nabbed him. He allegedly committed suicide at the Puzhal Central prison in Chennai on 20 September.
19-year-old kills herself after complaining of harassment
This is one of those cases where the victim was driven to kill herself after suffering continuous harassment. Police reports revealed the 19-year-old girl from Delhi hung herself after being allegedly harassed by a local youth. During investigation, the girl's sister told the police that a youth named Neeraj was stalking her sister for the last few days. The accused, Neeraj, was apprehended by police.