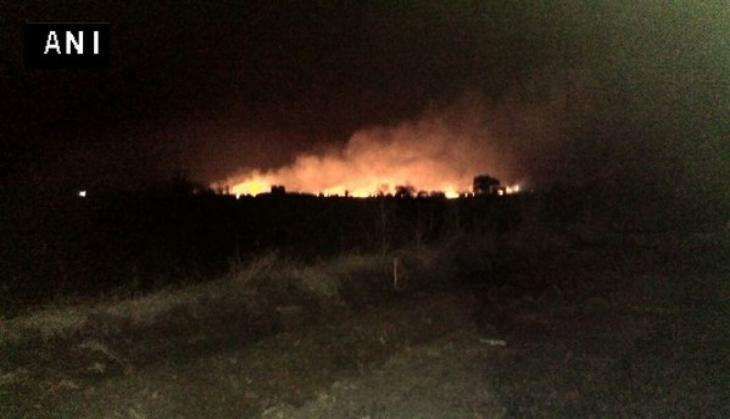 The explosion that took place while a fire raged at the Central Ammunition Depot (CAD) in Pulgaon on 31 May could have been caused by faulty anti-tank mines that leaked the explosive TNT.
Nineteen people, including two army officers were killed in the fire.
The defective mines continued to be stored at the Pulgaon deport even though the Comptroller and Auditor General (CAG) had warned last year in a report that 102,805 anti-tank mines, worth Rs 47.29 crore and rejected due to manufacturing defects, were stored in ammunition depots across the country, says The Indian Express.
The defective mines had been marked as "segregated" and stored separately in Shed 192, which stored 22,000 ND Mark-1 anti-tank mines weighing 330 metric tonnes, said sources. The fire is believed to have started at this shed, but the cause of the fire is still not known.
A senior army official said: "These ND Mark-1 mines had been reported for TNT 'exudation', which means TNT was leaking from these mines. The mines, in such cases, become very sensitive to very high temperature."
He added: "In spite of CAD Pulgaon regularly taking up the case with Ordnance Factory Board (OFB) to pick up the defective ammunition for repair, they failed to do so."
An ammunition expert explained: "TNT is a high explosive unlike gunpowder, which is a low explosive. High explosive does not detonate due to fire, but it happened in this case. The team clearly didn't expect it. It was the sympathetic blast that led to the massive explosion and heavy casualties."
However, army officials who are part of the inquiry have not ruled out any possible reason for the fire, including sabotage.