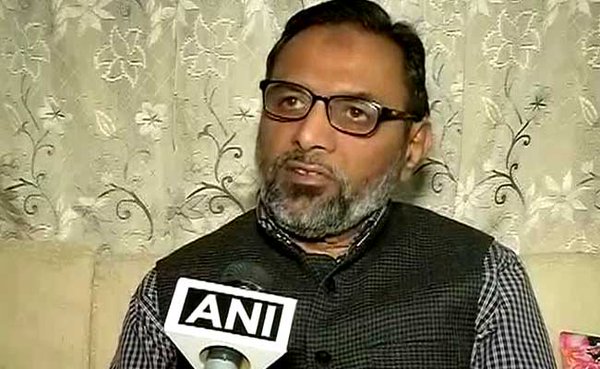 The Delhi Police have been looking out for Umar Khalid, a member of the now dissolved Democratic Students' Union (DSU) and one of the organisers of the pro-Afzal Guru event held in JNU on 9 February. While he is still absconding, his father has come out in the open to defend his son.
Khalid's father, Syed Qasim Rasool Ilyas, wants him to surrender before the Court. He says he has no idea about his whereabouts.
Dont know where he is, I appeal him to surrender before the Court: Syed Qasim Ilyas (Umar Khalid's father) #JNURow pic.twitter.com/XpH00oIcpr

- ANI (@ANI_news) February 19, 2016
Father's past haunting son's future?
Ilyas, who is currently the national president of the Welfare Party of India, is a former member of SIMI. He is apprehensive that his son might be punished for his association with SIMI almost 30 years ago, when the organisation was not banned. SIMI was banned only in 2001 while Ilyas had left it in 1985 before his son was born.
How're you associating my past regarding SIMI with Umar Khalid? I retired from SIMI in 1985, Umar was born after that: Umar Khalid's father

- ANI (@ANI_news) February 19, 2016
His father adds that the posters made by the students to publicise the Afzal Guru event had the names 10 organisers. He feels his son is being targeted only because he has a Muslim name, in an interview to ANI.
Umar Khalid is being targeted because of his name, because he is a Muslim, says Umar Khalid's father #JNURow

- ANI (@ANI_news) February 19, 2016
Ilyas' family members say that Khalid didn't believe in religious rituals and always had differences with his family. He was a communist, they say.
Umar Khalid's sister tells me: he didn't believe in Mohammed, where is the q. of Jaish-e-Mohd. Airs shortly on NDTV pic.twitter.com/9G2g0XfTSy

- Sreenivasan Jain (@SreenivasanJain) February 19, 2016
In an interview to
NDTV's
Srinivasan Jain, Khalid's sister said that the family has been receiving rape and murder threats.
Umar Khalid's sister: I'm hiding my face because we've been threatened w. rape, murder in name of Bharat Mata. #jnu pic.twitter.com/osCKStYqC0

- Sreenivasan Jain (@SreenivasanJain) February 19, 2016
According to the Indian Express, Ilyas spoke to his son for the last time the day he appeared on a television debate in the immediate aftermath of the anti-national sloganeering on the JNU campus.
Khalid was part of a now much publicised and shared News Hour debate.
Various media organisations have been claiming, quoting intelligence sources that Khalid is a JeM sympathiser. Many are also digging out his father's association with SIMI.
JNU Anti-India event conspirator Umar Khalid on the run,his father SQR Ilyasi is former Chief of banned outfit SIMI. pic.twitter.com/QGS99DPzC9

- Aditya Raj Kaul (@AdityaRajKaul) February 18, 2016
Delhi police launches massive manhunt for JNU's most wanted Umar Khalid #PatriotsWars #ITVideohttps://t.co/jmjAe82vkY

- India Today (@IndiaToday) February 19, 2016
However, his father clarifies Khalid is no terrorist. Umar is currently pursuing a PhD on condition of tribals in Jharkhand, reported the Indian Express. He did his MA and M phil for JNU.
Edited by Abha Shrivastava