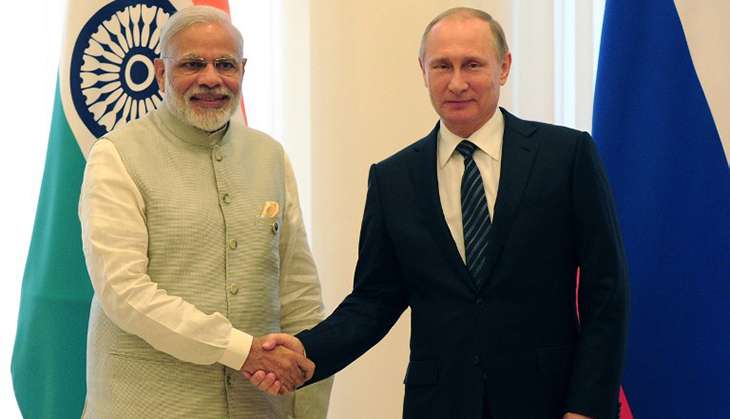 India and Russia today announced a string of events to commemorate 70 years of diplomatic relations between the two countries. The 70th anniversary falls in April 2017. Here is a list of events planned by both countries to celebrate this occasion.
Joint release of postage stamps of the Russian Federation and the Republic of India. Production of first day cover, special letter stamp and holding the ceremony of commemorative cancellation.
Simultaneous publication of articles dedicated to the anniversary by Russian President Vladimir Putin and Prime Minister Narendra Modi in leading periodicals of India and Russia respectively.
The rapid chess tournament in six games between Vladimir Kramnik (14-th World Champion) and Viswanathan Anand (15th World Champion) in Chennai.
Retrospective photo exhibitions on the history of Russian-Indian relations on the grounds of the All-Russia State Library for Foreign Literature.
The launch of a radio discussion programme dedicated to the 70th Anniversary of Establishment of diplomatic relations as part of a daily radio program "Russia Today" on Gold-FM All India Radio
Think-tank summit on topical issues and prospects of Russian-Indian cooperation in the changing global environment (in the follow-up to the forum held in Moscow on September 21-23, 2016).
'Round Tables' on international and bilateral issues, essential for both countries, in the format of video-conference on the basis of the RCSC and its offices in India with the participation of well-known Russian and Indian experts.
Forum of Heads of Russian Regional Administrations and the Chief Ministers of Indian states with the participation of eminent representatives of the business community and conducting crossed "business mission".
A joint motocross in India or international parade in the city with the participation of Russian and Indian motorcyclists.
"To Russia - with love!" programme - organising familiarisation tours for Indian citizens during the period, commemorative events and tours by the Ministry of Tourism, government of India, for travel professionals from Russia
Presentation of opportunities for investment and technology as part of the 'Make in India' campaign.