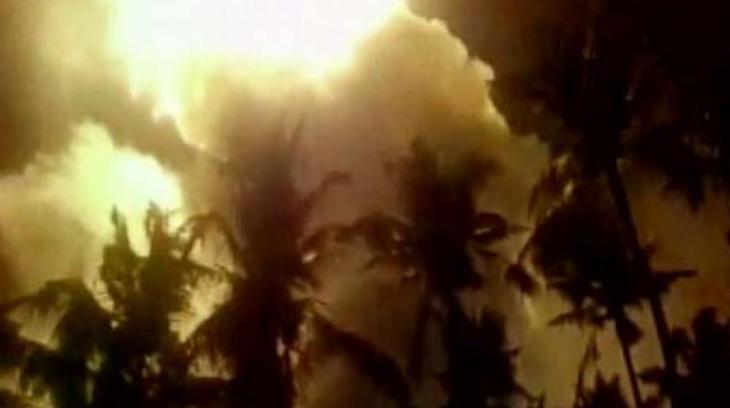 A fire caused by crackers at Kerala's Puttingal temple in Paravur, Kollam, killed at least 100 people and injured 383 in the early hours of this morning.
The fire began at about 3 am next to the temple where people had gathered for a festival and a night of fire crackers.
"A spark from the crackers being burst fell into the stack of crackers kept in a makeshift compartment at the ground, triggering the fire. The space was an open group and people could run away," said a police official.
A judicial probe by a retired High Court Judge was ordered by the state government along with an investigation by Crime Branch into the tragedy, Chief Minister Oommen Chandy announced after an emergency Cabinet meeting over the tragedy.
Chandy, who had earlier put the death toll at 102, told reporters after the meeting that as per the latest figures, 100 people have died and 383 persons were injured. The injured have been admitted to various hospitals, he said.
At least 60 bodies have been identified. Post-mortem will be held as early as possible and bodies handed over to the relatives without any delay, he said.
Scientific examination would be done to identify bodies which have not yet been claimed, he said.
Chandy also announced ex-gratia relief of Rs. 10 lakh to kin of each of those killed in fire tragedy, Rs. 2 lakh for seriously injured and Rs. 50,000 for those with minor injuries.
Prime Minister Narendra Modi, who termed the incident as "heart-rending" and "shocking", announced Rs. two lakh each as compensation for the next of the kin of the dead and Rs. 50,000 each for the injured. He later rushed here to personally take stock of the situation and see the injured people.
PM Modi had earlier tweeted: "Fire at temple in Kollam is heart-rending & shocking beyond words. My thoughts are with families of the deceased & prayers with the injured."
The fireworks were part of the festival and the temple authorities had been given permission for an all-night display, says NDTV.
According to Kerala's home minister, Ramesh Chennithala, all necessary arrangements have been made in the nearest big towns, Ernakulam and Thiruvananthapuram. The injured have been taken to 10 hospitals in the area.
The fire is now under control. The roof of the temple has been damaged.