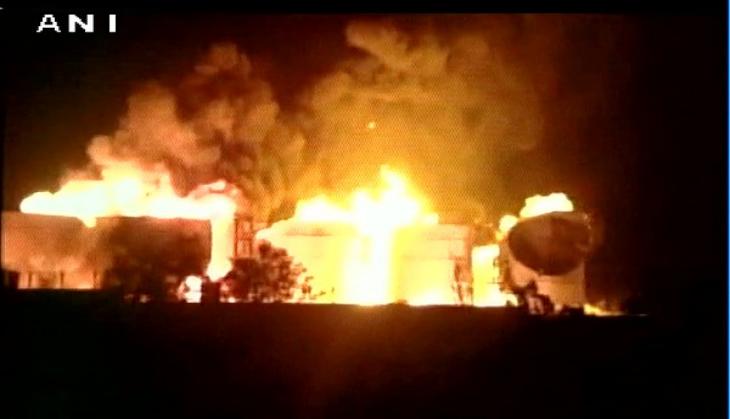 A massive fire erupted at a bio-diesel manufacturing plant in Duvvada Special Economic Zone (SEZ) near Visakhapatnam late on 26 April.
According to the latest updates, the fire is almost under control.
"Fire seems to be under control, but it'll take another four to five hrs to bring situation completely under control... Indian Navy is here since last night and we have deployed 15 fire tenders for fire fighting," Indian Naval officer Rajesh Shetty told ANI.
"Twelve fire tenders including foam types have already been deployed by the navy. Medical teams and quick reaction teams continue to be on standby," he added.
Earlier, controlling the blaze turned out to be a massive challenge for the authorities due to the presence of highly inflammable material in the plant's premises. According to reports, eighteen tanks of fuel and raw materials were present at the Biomax's unit at the time of fire. No causalities have been reported so far.
Such was the intensity of flames that the Eastern Naval Command was pressed into service to aid the local authorities in fire fighting.
"We have sent eight fire extinguishers, will see what best we can do... Eastern Naval Command launched two aircrafts for aerial reconnaissance and assessment of the extent of fire," said Ravindra, an Indian Navy Commander.
Andhra Pradesh Human Resources Development Minister Ganta Srinivasa Rao, who rushed to the scene to take stock of the situation, said that the state government has ordered an inquiry into the matter.
"We ordered to district for enquiry on this incident. There is no fire safety in the city. I accept this. Not only industry area, but even schools, malls, theatres and various other places do not have safety methods. We will check it from tomorrow, we should take action against those who are not following rules and regulations," he said.
In 1997, a massive fire in the HPCL plant in the same area had left over 60 people dead.
-With ANI inputs