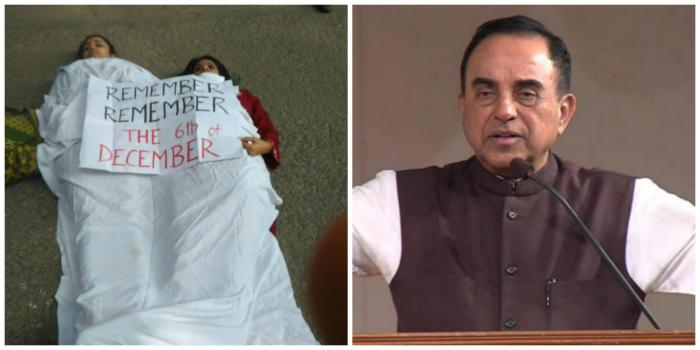 BJP leader Subramaniam Swamy has lashed out at those opposing a seminar on Ram Janmabhoomi in Delhi University campus and dubbed them as "intolerant" even as the students and teachers said they will stage protests outside the venue tomorrow.
"There has been a lot of hue and cry about the so called intolerance, where has that intolerance gone? This is a seminar on a topic which is very important, it is not being attended by politicians but by historians, researchers and academicians.
"What is the objection then? Those objecting are all left-wing people and naxalites. If they want to protest outside they can, but if they disrupt the law and order then police should take proper action," he said.
He further added it wasn't an election stunt. "Suppose we don't do it this year, the next year is the election and then we have to do it the following year which is 2018. Then you will say it is for the Lok Sabha elections. Every year there is an election. So, we can't stop our activities just because there is going to be an election," Swamy told ANI.
"The public is quite sensible. They will know that it is an election stunt or not. The whole country wants, 99 percent of the Hindus today want the Mandir to be built and most of the Christians and the Muslims are not opposed to it because we are not against to build the Masjid across the Saryu river in Ayodhya," he added.
The two-day seminar titled "Shri Ram Janma Bhoomi Temple: Emerging Scenario" and beginning today is being organised at DU's Arts Faculty by Arundhati Vashishtha Anusandhan Peeth (AVAP), a research organisation founded by late VHP leader Ashok Singhal.
Swamy, who is chairman of AVAP, is scheduled to deliver the inaugural address at the seminar which will see historians, archaeologists and law experts discussing various topics including "Lord Ram's character and values, and their impact on Indian culture", "History of the Ram temple and related archaeological findings", "Legal issues around Ram temple" and "Experience and future of Ram temple".
Various student groups and teachers have been opposing the DU's decision to offer its campus for the non-academic event saying it is an attempt to communalise the campus and are demanding that the request be withdrawn.
However, after not receiving a positive response from DU about their demand, the protesters today said they will stage an agitation outside the venue tomorrow.
"There are numerous more important issues of discussion including poverty, education and unemployment rather than discussing something that has always been a bone of contention between the people of different communities. We will hold a protest against it tomorrow," Krantikari Yuwa Sangathan said in a statement.
DU professor Shaswati Majumdar said, "University is not a place for such kind of divisive seminars or lectures, which propagate only one-sided ideology. Academic institutions are places where students from different castes and religions feel comfortable to be in. This seminar will only create an environment of hostility and discomfort".
Delhi University authorities are maintaining that they have nothing to do with the subject of the seminar and the organisation had booked the venue for the event which is available to outsiders for hiring.
--With agency inputs