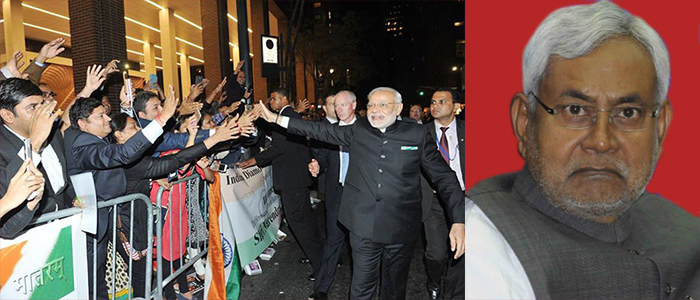 Prime Minister Narendra Modi is the face of BJP for Bihar polls as the party has stuck to its policy of not naming the candidate for the coveted post of chief minister. One might think that Modi's long absence from Bihar could have adversely affected BJP's campaign in the state, as the fight is now primarily between Modi and Nitish Kumar. But perhaps not.
Mahagathbandhan (grand alliance) which comprises RJD, JD(U) and Congress had recently requested Election Commission not to allow Narendra Modi to go ahead with his 'Mann ki Baat' as the polls process in on in Bihar. But this request was turned down by the Election Commission. However, Modi has been warned by EC not to say anything that may be construed as an inducement to voters or may impact the election.
The opposition predictably never wanted Modi to get free publicity or to influence voters. But sadly for Mahagathbandhan, the US visit is giving Modi all the publicity and air time that helps prop up his image as a man respected all over the world, who is cable of making things move, not only in India but also across the world. BJP's cast calculations aside, Modi's image as a strong and reputed world leader could affect voters' decision on the poll day, believe many BJP leaders.
The Times Now-Cvoter opinion poll released on Thursday claims that it will be neck and neck contest between the NDA and Nitish-led grand alliance in Bihar.
Good news for the BJP is that NDA is markedly gaining ground, the survey points. Also, media coverage of Modi's visit could help BJP make the most of the trend in its favour, if any.
Voters of Bihar are watching Modi engaging with world leaders and asking them to come and invest in India.
Modi, while interacting with 50 CEOs of the Fortune 500 companies, presented a page-long fact sheet of the steps taken by his government in the last one year. This again was appreciated by CEOs who described it as "report card," adding that this reflected a great transparency of the Modi government.
Media titan Rupert Murdoch on Friday tweeted in praise of Prime Minister Narendra Modi.
"Great hour with Indian PM Modi. Best leader with best policies since independence, but massive task to achieve in most complex nation," Rupert Murdoch tweeted.
Modi is visiting Silicon Valley and scheduled to meet the who's who of the global tech world. This again is generating tremendous media attention which is good for BJP's in Bihar.
Just how much of the good-publicity for Modi would translate into votes in Bihar is hard to predict, but one thing is sure - Modi absence is not pinching BJP, rather the party leaders are all smiling in Bihar.