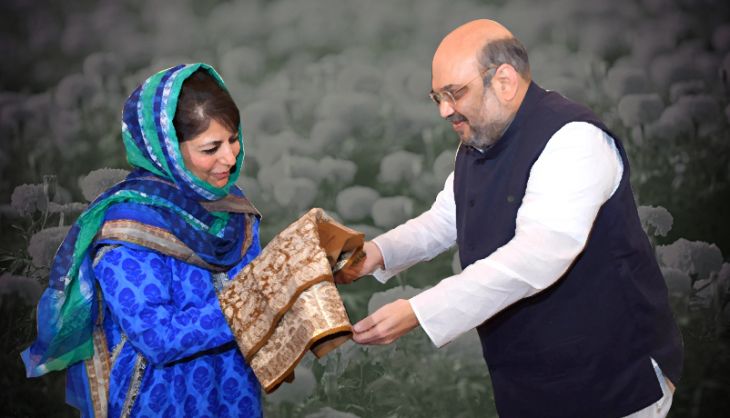 Kapil Mishra, a minister with the AAP government in Delhi, has asked BJP president Amit Shah if the party would continue with its alliance with the People's Democratic Party in Jammu and Kashmir if PDP leader Mehbooba Mufti refuses to say 'Bharat Mata ki Jai'.
Mishra, Delhi's minister for water, culture and tourism, wrote this in a letter to Amit Shah, and asked several other questions that he believes are pertinent given the current debate on nationalism that saw an MLA in Maharashtra suspended for refusing to say those words.
"My questions are serious, although the tone may be sarcastic," said Mishra, according to The Indian Express.
He wrote in his letter: "Please take the country into confidence before forming this unholy coalition government. The day this unholy government takes control, I, as an ordinary Indian, will wear a black ribbon to express my disappointment."
Mishra's questions and observations in his letter to Shah are as follows:
1. "Does Mehbooba Mufti believe in saying 'Bharat Mata ki Jai'? If not, will the BJP still form a government with her?"
2. "Before taking charge of J&K, will Mehbooba Mufti say it once before the entire country "Afzal Guru was a terrorist, Afzal Guru Murdabad"? If not, why are you (Shah) so desperate to form a government with her?" (The PDP had asked for mercy in the case of Afzal Guru, who was hanged for his involvement in the 2001 Parliament attack.)
3. "Doesn't sending a union minister to Pakistan on Pakistan Day under pressure from Mehbooba make the country look weak before the world?"
4. Is Mehbooba the reason that a team of Pakistani investigators is being allowed to come to India to probe the Pathankot attack? "The world is now wondering if India does not believe that the Pakistani army and the government provide training and weapons to terrorists to attack India. In one shot you have weakened the country's several years-old stand against state-sponsored terrorism."