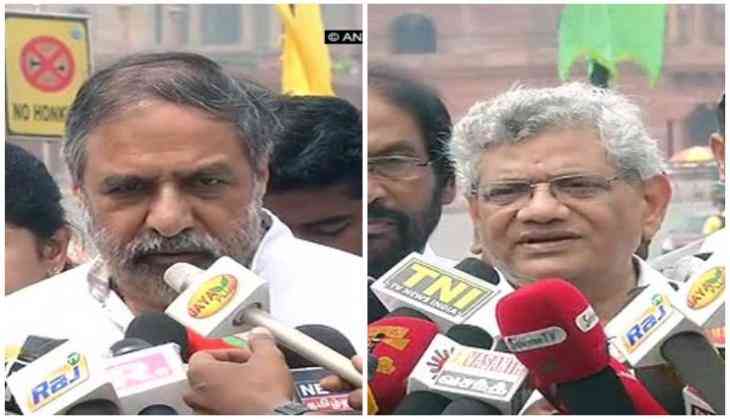 A delegation of opposition parties including the Dravida Munnetra Kazhagam (DMK), the Congress, the Communist Party of India (CPI) and the Communist Party of India (Marxist) (CPM) met President Ram Nath Kovind on 31 August, demanding a floor test in the Tamil Nadu Assembly.
The opposition parties in Tamil Nadu claimed that the government has been "reduced" to a minority with 21 MLAs owing allegiance to T.T.V. Dinakaran's AIADMK faction withdrawing their support to Chief Minister E. Palanisamy and thereby, demanded a floor test.
CPM general secretary Sitaram Yechury, who was present at the meeting, argued that a party cannot rule a state if the party doesn't command the mandate of the state and believes that a floor test is the only way to come to a solution.
"The point is that any government of a country has to enjoy the majority of legislative members that can be demonstrated only on the floor of the house. Without a floor test, any action taken by the government doesn't have the mandate of a majority," he told the media after the meeting.
Echoing Yechury's views, Congress Rajya Sabha MP Anand Sharma said that that the floor test is a necessary step to cope with the political instability in Tamil Nadu.
He said, "The government and the Chief Minister have lost the majority. The leader of the opposition urged the governor to convene an urgent session of the TN Assembly."
He added that the President has been conveyed of situation of 21 MLAs giving their letters of withdrawal of support to the AIADMK government.
The meeting comes after DMK working president M.K. Stalin's criticised the mode of working of Governor C. Vidyasagar Rao.
Stalin said on Wednesday that the governor had "failed to discharge his duties" and stated this as the reason for planning to meet President Kovind.
Stalin, while talking to the press, said that Governor Rao was indulging in politics, adding, "We have been saying since the beginning that the Union Government is behind everything happening in Tamil Nadu."
Stalin further said that if no action is taken against Tamil Nadu Government even after meeting the President, then they "will consider legal action".
-ANI