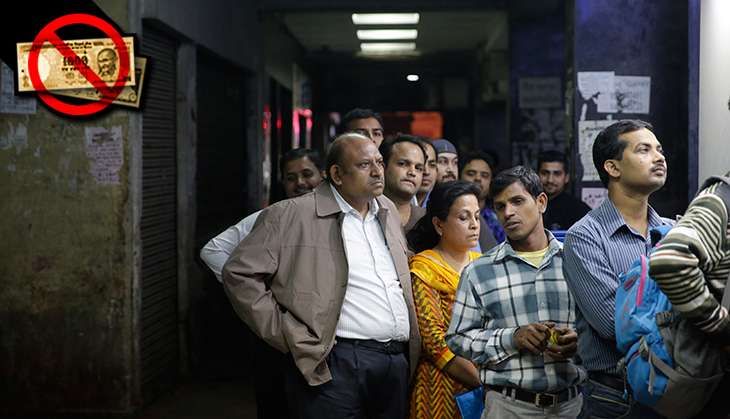 Do you remember your first reaction when PM Narendra Modi announced the ban on Rs 500 and Rs 1,000 currency notes?
I saw the news on Twitter. Stared at it for a while. I also remember thinking, 'This is a huge financial decision!' Soon after, a flood of messages hit my smartphone - ranging from jokes, funny pictures, to WhatsApp newsroom debates. Even the dormant groups were walking up from their comas.
But most importantly, positivity was the initial reaction that I could detect. Aam admi on WhatsApp was hailing the move. Finally, someone was doing something to stop the corruption, helping the service class, the bourgeois.
Two days passed and reality started sinking in. People had money in their accounts, but none to spend. Queues at banks and ATMs were getting longer. Yet, the common people did not sway. Those standing in the queues stuck to their commitment to remain positive. The government extended some dates, changed some withdrawal limits.
After seven days of careful planning and heavy reliance on mobile wallets, we finally ran out of liquid cash. So, I decided to brave a visit to the bank, takeout some lumpsum cash instead of standing in ATM queues every few days.
I went there expecting long queues and Modi adulation. But, I wasn't prepared for the emotional onslaught, the tears of hard working people and senior citizens. It can affect even the most oblivious person.
On 16 November, ICICI Bank Sector 18 Noida branch had two separate lines for men and women plus a separate entrance for senior citizens and handicapped persons. Ahead of me, at 10:15 am, were about 20-25 women. The men's queue - well, it was long. Very long. A handful of bank authorities stood guard at the several entrances, armed with infinite patience but sharp words. The same authorities also doubled up as water servers to those standing in queue.
After about 30 minutes of standing in a static queue, bank authorities inform us there's no cash in the bank. Sometime later, the first bundles of cash arrive, prompting the queue to move. Meanwhile, a scuffle breaks out. Most standing in the queue have no idea what led to the fight. Tempers are running high.
Chaos ensues at @ICICIBank noida sector 18 bank. Officials sending random guys inside. @CatchNews #moneywoes #bank #queue pic.twitter.com/Y8JhRvDybQ

— Ipsita Sarkar (@Piercingharmony) November 16, 2016
As armed policemen arrive on scene, my turn comes up. Inside, there's another waiting room, where we're handed deposit and exchange slips. While filling up forms, an official says, "Bas, Rs 10,000 nikal sakte hain aap (You can withdraw just Rs 10,000)."
Everyone objects. The limit is Rs 24,000. "There's not enough cash for everyone." I see clueless faces all around.
"Par mere ghar mein toh shaadi hai (But there' a wedding at my home)," says a man sitting afar. The official sighs, choosing to remain quiet.
Finally, it's time to enter the labyrinth - the main bank. As I enter, a swarm of people surround me. An official instructs me to wait at a certain counter.
Next to my counter, I see several senior citizens waiting for their turns.
"What the hell is this! Am I supposed to constantly roam back and forth? I have been here for over three hours. Just tell me what I need to do," shouts a man his late-seventies.
An old lady is sitting with her husband. "Sunday ko bhi aapne wapas bhej diya tha. Bacche kaam karte hein. Unko bhi apna ghar chalana hai. Hum kya karen..." she breaks down. "Kaise prove karen? Please iss KYC ko aap thik karaiye." She sobs. "Puri zindagi ki mehnat hai yeh." Her husband has a blank expression on his face. I later find out that this is the third visit to the bank for Mr & Mrs X, both over 80.
Tears can be contagious. Soon, everyone around has wet eyes.
Sixty-five-year-old Shabnoor Khatoon wants to exchange her old notes of Rs 4,000 and her daughter's Rs 4,000. She has an authorisation letter. But the exchange sheet she filled up a few minutes ago at the bank doesn't have the daughter's signatures. "Yeh kagaz to abhi mila. Kaise le ayun main beti ka sign? Authorisation letter hai, na."
She exits the queue, with wet eyes.
I look around. Some customers are angry, some sad. They're all seeking help from bank officials.
And, bank officials are the actual overworked, under-appreciated soldiers of demonetisation.
Deputy Manager Nitin Arora sits behind a table, checking KYC (Know Your Customer) forms for everyone. I sit in front of him, requesting him to approve my forms.
"Aath baje se baitha hun. Ek khaana khane ka break bhi nai mila. (Sitting here since 8 am, without a single food break)," he tells me, hoping I'd let him take a quick break. Some senior citizens arrive at his desk. His plans to quickly grab his first meal of the day dies.
I look at my watch, stunned to find that it's 3 pm already. I hurry towards the cash withdrawal counter, standing in another queue.
Indians have a peculiar way of queuing up near the counter. They fall over each other's shoulders. The branch manager marches up. "Everyone, please stand in a proper queue. Don't put pressure on the person behind the counter," he tells the public.
A young woman officer is dispersing cash. The manager walks up to her, asking her to take quick lunch break now. "There'll be no time later." After a few reminders, the woman loses it. "Arre 10 minute dijiye na. 10 minute mein kya bigar jayega? (Give me 10 minutes. What will you lose in 10 minutes?)," she shouts back.
Meanwhile, a customer is yelling, unable to understand why he cannot withdraw Rs 20,000. "Sir, apne pehle Rs 10,000 nikal liye hain. Ek week mein bus Rs 24,000 ka limit hai, (You withdrew Rs 10,000 earlier. Weekly withdrawal limit is Rs 24,000)," explains the girl behind the counter. The man refuses to listen, gets aggressive. A bunch of officials leave their work stations, trying to pacify him.
Outside the bank, there's a mob waiting to explode. Inside the bank, there were tears all around.
As I walk out of the bank, at about 3:40 pm, I realise demonitisation - the self-appointed morality project of the nation - has a long way to go.
It is worth making the common man cry, to weed out black money hoarders, who were already aware about the move?