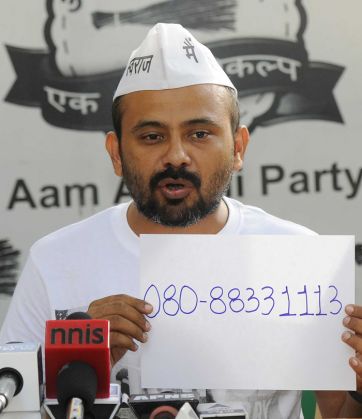 The conflict between Aam Aadmi Party and Lt. Governor Najeeb Jung is intensifying with every passing day. Reacting to AAP's allegations that Jung was trying to supersede authority of elected government, Lt. Governor released an open letter in the media on 24 July.
Catch spoke to Dilip Pandey of AAP about this and other important issues:
NH: Lt Governor Najeeb Jung released an open letter in the media responding to AAP's allegations in the Swati Maliwal appointment issue. He said that publically discussing these issues maligns the image of Delhi in the country and also outside the country. How do you respond to that?
DP: Najeeb Jung, in his letter had said that he is the government of Delhi instead of the democratically elected people. I believe such claim that one person is government in a democracy taints the image of Delhi and the nation more than anything else. The problem is that Lt Governor's office is being used by the central government to destabilise the Delhi government and if Najeeb Jung was actually concerned about the people of delhi then he would not have to be concerned about the image of Delhi.
Image is not built by name; we have to work for improving the image. If crime against women are rising in the state and the government is trying to appoint a capable woman as Delhi Commission of Women (DCW) chief and you are Lt Governor is not allowing that which is causing more harm to the image of Delhi.
NH: Najeeb Jung says that he does not have a problem with Swati Maliwal's appointment but with the fact that proper procedure was not followed. He also says that Arvind Kejriwal is issuing notifications without his approval.
DP: This is just a rhetoric. He objected to it, so we sent another letter but then he had a problem with that too. If he thinks that something is wrong with the documents then he should correct it, but he is not doing that. Also, he knows how authority is distributed between him and Delhi government. Nanavati commission has clearly said that Delhi government means the government elected by the people and not the Lt Governor. Although he has a vast experience and he can trap us in the technical procedures but that does not mean he can fool the people of Delhi.
NH: Recently you accused that a Delhi Police bus tried to run you over and you filed a complaint against it. How far has the case progressed?
DP: No development has happened so far and whatever has happened is completely laughable. I was the one who was attacked and whose life was at risk but they did not file an FIR on my complaint. Instead, a complaint was filed against me by the bus driver so you can see that in this system if you raise your voice then an FIR is filed against you only. Mr. Bassi thinks that they are doing a very good work but the law and order condition is very bad in the state.
NH: Manish Sisodia said that there was a budget deficit of Rs. 4,500 crore in Delhi in 2014-15. AAP has allotted more than Rs. 500 crore for advertisement and is also spending a lot on subsidies. Will it not increase the burden of deficit?
DP: There is nothing like that; government does not have a budget deficit. In the last quarter, the VAT collection was 29%, so this means that money will come from different sources. The problem is not about money but about the intentions with which the money is being used. It is more important that the money is being spent for good purpose than the amount of money spent.