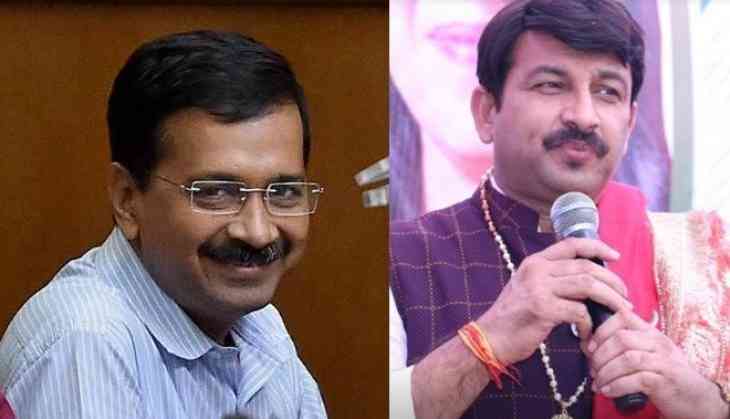 Manoj Tiwari and Arvind Kejriwal (Financial Express)
As Aam Aadmi Party is reeling under pressure over funding, the Delhi BJP chief Manoj Tiwari has agreed to pay Rs 1.1 lakh to the AAP if CM Kejriwal passes the next installment of Delhi Metro.
Manoj Tiwari has said that he will be donating the money to the family members of Santosh Koli and Soni Mishra, who were the party workers of AAP and their deaths were questioned by the BJP and the allegations were made against the AAP.
In a tweet, the BJP MP had promised to pay the amount if CM Arvind Kejriwal passes the Delhi Metro's 4th corridor and creates no reservations in it.
Tiwari tweeted in October saying, "Arvind Kejriwal, do not punish people who have elected you. Delhi gave 67 out of 70 seats to Kejriwal, but he says he will not give them Metro. If you want donation then you pass the metro phase IV and I will give you 1,11,100 from the money I have earned from my performances."
In response to this, the Delhi's Aam Aadmi Party tweeted that Tiwari should adhere to his promise if the latter completes and keeps the demands raised by him.
AAP tweeted, "We hope Manoj Tiwari will fulfill his promise, unlike Narendra Modi and BJP government. You can fulfill your promise by donating the money on the below mentioned link. This way you can also be a part of digital India."
@ArvindKejriwal जी पकडे गए ना
आपकी पार्टी ने मान लिया है कि मेट्रो फेज4 का काम आप ही रोक रहे थे
वायदे का पक्का हूँ, चंदा स्वर्गीय संतोष कोली और सोनी मिश्रा के परिवार में दे रहा हूँ
Now call All Party Meet, for your failure to handle pollution in Delhi, will donate the same again pic.twitter.com/gGn8ohCPBU

— Manoj Tiwari (@ManojTiwariMP) December 21, 2018
As the AAP government passed the Delhi Metro phase 4 corridor, it tweeted to Manoj Tiwari saying that hope he remembers his promise and it doesn't becomes another "jumala" from the BJP.
Manoj Tiwari reacted saying he is true to his promise and is donating Rs 1.1 lakh to the families of deceased. He tweeted, "Arvind Kejriwalji you are caught. Your party has admitted that Metro Phase IV was being stalled by you. I am true to my promise and giving the donation to the families of late Santosh Koli and Soni Mishra."
Also read: Rajiv Gandhi Bharat Ratna Row: MLA Alka Lamba asked to quit AAP by Delhi CM Kejriwal
शाहपुर,आरा, बिहार से मिला प्यार कई मायनों में बहुत ख़ास है क्यूँकि सहपाठियों ने बुलाया था.. और मोदी जी प्रति आदर का प्रदर्शन था.. चाहें तो लिंक देखें https://t.co/7aO8SqaAPL pic.twitter.com/blttizucyw

— Manoj Tiwari (@ManojTiwariMP) December 21, 2018