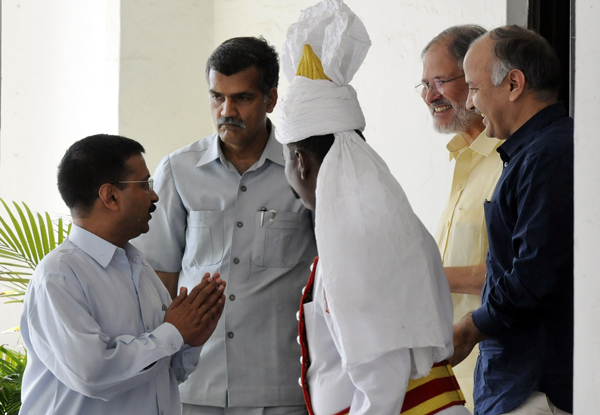 Eighty-one per cent of the people of Delhi would vote for full statehood for the capital city if a referendum on the issue is held today, a C-voter survey said.
More than 3,000 Delhiites were surveyed by C-Voter on behalf of Huffington Post.
This comes as a booster for the AAP government, which has been demanding full statehood status for Delhi.
What may not please the AAP-led government is that 59 per cent of the 3,000-odd people surveyed believe that it is promoting the idea of a referendum only to divert attention from the recent controversies.
AAP's reaction
The AAP government has said that they have nothing to do with the survey. The party, which has been active on social media, said that it had received a very positive response and is confident that most people are in favour of a referendum. According to AAP, its role will be restricted to mobilising people to take part in the referendum.
More from the survey
- 46 per cent
Delhites are hopeful that full statehood will bring positive change in the city.
- 26 per cent
Believe that full statehood will improve law and order in the city.
- 28 per cent
Say that there will be no impact.
- 63 per cent of AAP supporters
Feel that full statehood will be a panacea for Delhi's state of affairs.
- 62 per cent of BJP supporters
Say they will vote for full statehood if the referendum takes place.
In recent months, the tussle between the Centre and the AAP government in Delhi has grown bitter. Arvind Kejriwal has clashed frequently with the Lieutenant Governor Najeeb Jung--seen as acting at the behest of the central government--nearly precipitating a constitutional crisis.
While Arvind Kejriwal has asked his urban development department for a referendum, BJP has sharply opposed the move. Congress spokesperson Ajay Maken called the demand "unconstitutional and anti-national".