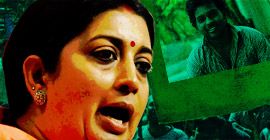 Labour minister Bandaru Dattatreya, booked for abetting the suicide of Dalit scholar Rohith Vemula, has recommended a candidate for the post of chairman at the National Council of Rural Institutes (NCRI) in a letter addressed to HRD Minister Smriti Irani, reports The Indian Express.
Dattatreya has been at the centre of a controversy over political interference in academic institutions ever since it was revealed that he had written a letter to the HRD Ministry recommending action against Vemula and four other Dalit students at Hyderabad University for their 'anti-national' and 'anti-social' behaviour. He was booked by the police on charges of abetment of suicide after Vemula hanged himself.
In his 13 January letter to Irani, Dattatreya asked her to "consider" K Sudhakar for the NCRI chairman's position, but gives no reason why. Sudhakar had previously been a member-secretary of the NCRI.
Eleven candidates for the post, which has been vacant since its chairman Appa Rao Podile, vice chancellor of Hyderabad University, went on indefinite leave after the suicide of Vemula, will be interviewed by a government committee on 9 February. The NCRI is in charge of formal and informal rural institutes.