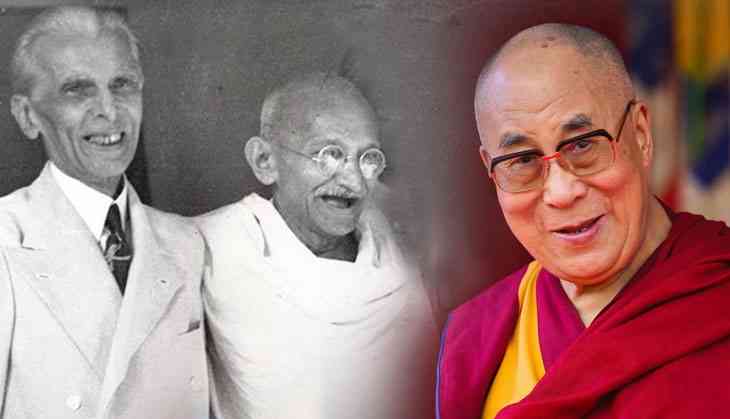 Popular spiritual leader Dalai Lama on Wednesday made a controversial remark on father of nation Mahatma Gandhi that he wanted to make Muhammad Ali Jinnah Prime Minister of India. Tibetan spiritual leader said Jawaharlal Nehru had a "self-centred attitude" to become India's first prime minister even though Mahatma Gandhi was in favour of Muhammad Ali Jinnah taking the top post at that time.
Dalai Lama also claimed India's partition would not have happened if Mahatma Gandhi's wish of Jinnah becoming the prime minister had materialised. The 83-year-old spiritual leader was addressing an event at the Goa Institute of Management in Goa's Sankhalim town, located about 40 km from here.
Responding to a student's question on taking right decisions, he said, "I feel democratic systems are very good than the feudal system, which gives the power of making decisions in the hands of a few people, which is more dangerous."
"Now look at India. I think Mahatma Gandhiji was very much willing to give the prime ministership to Jinnah. But Pandit Nehru refused," he said. "I think it was a little bit self-centred attitude of Pandit Nehru that he should be the prime minister… Mahatma Gandhiji's thinking, if it had materialised, then India, Pakistan would have been united," he said.
"So Pandit Nehru, I know very well, (was) very experienced person, very wise but sometimes mistake also happens," he said. "On the night of March 17, 1959, after 10th March crisis which was the result of the problem that started in 1956, we had to escape," he added.
"At the age of 16, I lost my freedom. At the age of 24, I lost my country. For 17 years, there was a lot of suffering and lot of destruction in the country, but we kept our determination," the Dalai Lama said.
Also read: Karunanidhi Funeral: Why all the controvery over burial of Karunanidhi at Marina beach; here are 9 major points