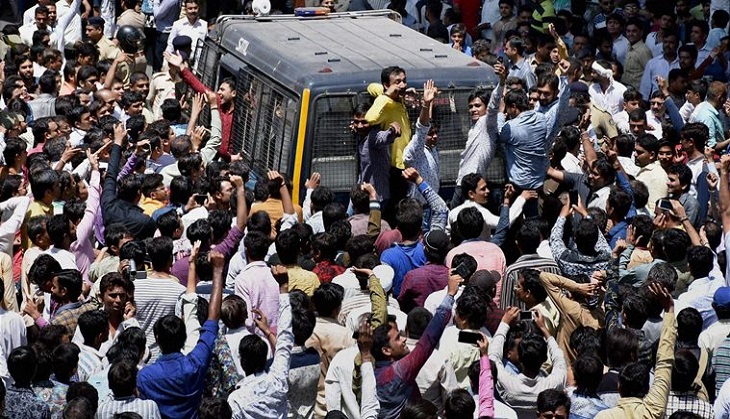 A curfew was imposed in Gujarat's Mehsana following a massive protest by the Patidar community demanding the release of their leader Hardik Patel on 16 April.
Police had to resort to lathicharge and fire tear gas shells to control the mob, which retaliated by pelting stones. A number of protesters also sustained injuries. 
Nearly 100 members of the community have reportedly been detained by the police. Mobile and internet services have been temporarily suspended. 
According to a report in The Hindu, the police have also detained Patel quota agitation leader Lalji Patel, who called for a second round of agitation because the government did not take action on the demands put up by the Patidar community. 
PTI quoted him as saying, "Our protest was peaceful as announced earlier. However, police suddenly hit me and some of our members when we were walking ahead of the procession. I was hit on head. You can see the blood on my face. We were beaten up without any provocation."
However, the police officials claimed that they the situation worsened when the members of the community resorted to violence. 
The report further quoted DGP of Gujarat PP Pandey as saying, "Police always work to establish peace. The gathering was peaceful initially. However, the situation deteriorated only after some persons resorted to violence and damaged property. I have already sent additional force to handle the situation."
Another report added that the Patidars - who had launched 'Jail Bharo Andolan' in the state - hurled slogans against the BJP-led state government.
Hardik Patel was arrested in October 2015 and is facing sedition charges.