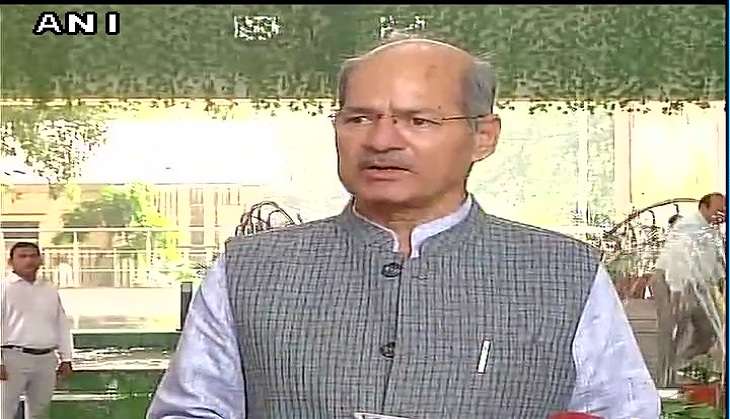 A week after Diwali celebrations, the air quality in the National Capital Region has shown no signs of improving, as panic stricken citizens scurry through the city's smog covered streets armed with masks. Amid criticism from the National Green Tribunal for lack of action on the part of the Delhi government to bring down the alarming pollution levels, Environment Minister Anil Dave chaired a meeting on 7 November to discuss steps to bring the situation under control.
During the meeting, Dave insisted that the onus to take initiative and implement immediate measures to curb pollution lies on the state governments; and that instead of resorting to blame game, the air must be rid of particulate matter on priority.
Also read - SC to hear plea seeking monitoring of soaring pollution level in Delhi
"80% of air pollution problem in Delhi is derived from here itself, 20% is from crop burning in neighbouring states; need to address this", he said.
"Till the state government takes initiative immediately, no issue would be solved. They must sprinkle water and do the needful on time," the Environment Minister added. "We will issue an environment protection calendar which will be state specific. Dust is one of the major reasons for pollution", he said.
After being rebuked by the NGT for their inaction, the New Delhi Municipal Council began sprinkling water using the jet pressure pump technique this morning as a control measure.
Also read - NGT slams Centre, Delhi, Punjab, Haryana and Rajasthan governments for rise in pollution levels
The National Green Tribunal on 7 November lashed out at the Centre and the governments of Delhi, Punjab, Haryana and Rajasthan for the rise in pollution levels and prevailing smog that has covered the national capital along with some other areas since 31 October.
Slamming the state and central government, the NGT asked about steps taken till now to combat the pollution.
Meanwhile, the Supreme Court on 7 November took cognisance of the deteriorating air quality in the National Capital and asserted that it would hear a plea seeking proper monitoring of increasing level of pollution in Delhi and adjoining areas.
Also read - Gurugram pollution: Section 144 imposed to curb waste burning in the city
The Gurgaon district administration also imposed Section 144 of CrPC in Gurgaon and banned the burning of waste, garbage and other materials openly on 7 November.
Delhi Cabinet Minister Kapil Mishra took to the online platform change.org to appeal to the residents of the NCR region to write to him with suggestions for tackling the pollution situation in the state. "As a Cabinet Minister for the Delhi Government, I seek your suggestions to tackle Delhi's pollution," the petition reads.
"Delhi Environment Minister Imran Hussain and I will both look at your suggestions. My commitment to you is that we will start working on the solutions being provided immediately," Mishra wrote on change.org.