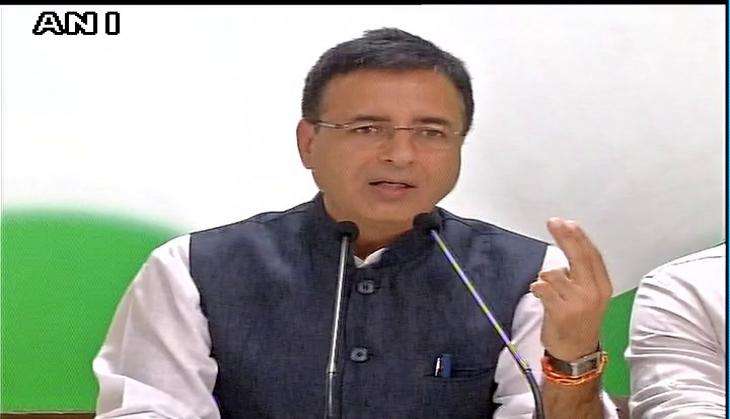 The Congress Party, on 28 November, took a dig at the ruling BJP government over the demonetisation move, alleging that by a single disastrous decision, Prime Minister Narendra Modi has "demonetised" the entire nation.
"Modi government has not only demonetised the currency alone but has ended up demonetising the economy, the jobs, trade, businesses, agriculture, rural sectors and essentially demonetising the people of India," Congress Spokesperson Randeep Singh Surjewala said.
"Blinded by the arrogance of numbers Narendra Modi is unable to fathom the pain the anguish and the anger of India's 125 crore people for whipping out their life earnings and creating a colossal sense of fear and insecurity," he added.
Congress further dared Prime Minister Modi and Bharatiya Janata Party (BJP) president Amit Shah to disclose the deposits made over last six months public so that the people of the country can judge.
"We dare Narendra Modi and Amit Shah to make entire accounts of Bharatiya Janata Party and deposits made over last six months public. So that people of India can judge as to how much black money was converted to white by Modi Government," Surjewala said.
In a bid to make India a cashless economy, the Prime Minister had earlier directed his senior ministers to enlighten the people about merits of using e-wallets and other digital payment methods.
The renewed push to make India less reliant on hard currencies came a day after the Prime Minister exhorted the people to use debit cards and other digital payments while purchasing essential items.
According to government sources, the Prime Minister asked his ministers to start the promotion of cashless economy with their own staffs followed by their ministry and then constituency to appeal to larger masses.
Finance Minister Arun Jaitley also spoke to Bihar Chief Minister Nitish Kumar amongst the others to form a sub-committee to give impetus to a cashless economy.
In the 26th edition of Mann Ki Baat programme, Prime Minister Modi said, "I know cashless economy is different. Why not move towards a cashless society? Need your physical support in this. I took this decision for the country's poor, farmer, labour, deprived and for those who are suffering. I reiterate that I need your support; I am positive that you will help me in this; take a pledge that you will be a part of this cashless economy."
The Prime Minister also stated that there has been 300% increase in the use of Rupay card since the poor people started using it.
--ANI