Somi Das
| Updated on: 10 February 2017, 1:50 IST
In the wake of the dismal performance of the Congress party in the latest round of Assembly elections, Gandhi family loyalist Digvijaya Singh has spoken out about the unease within the party.
He tweeted: We have done enough introspection. Shouldn't we go for a major surgery?"
While Singh's reaction should be the cue for some serious introspection within the party, Congress leaders still gung ho about another promotion for the party vice-president.
Despite the fact that driving the chief architect of BJP's historic Assam win, Himanta Biswa Sarma, out of Congress was a direct result of Rahul Gandhi turning a deaf ear to Sarma's disgruntlement, party leaders want him to be further elevated.
The Indian Express quoted Kerala MP Shashi Tharoor as saying "Rahul Gandhi should take over the party sooner rather than later."
Since 2012, following every election the party has lost or performed poorly in, the senior leadership has sought to shield the Gandhis.
Not only do they give him credit for all their victories, but when it comes to losses, their refrain has been: "you can't blame Rahul Gandhi for losses in the state".
For the Congress scion himself, "power is poison" - as he famously said when he was appointed the vice-president amid much fanfare before the 2014 Lok Sabha Elections.
However, going by Rahul's seamless progression within the party, it seems that power for him comes without the need to be accountable.
The result? The Congress is in power in only seven states today (6 states + 1 Union territory).
Here's a graph that will give you an idea of how Gandhi's elevation has been matched by the steep downfall of the party at large. Take a look.
Research: Joy Tirkey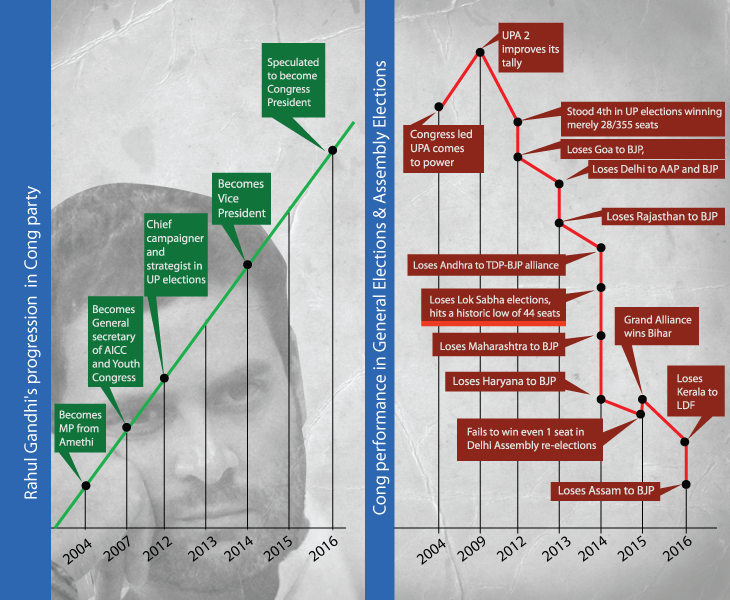 Graphics by Sajad Malik