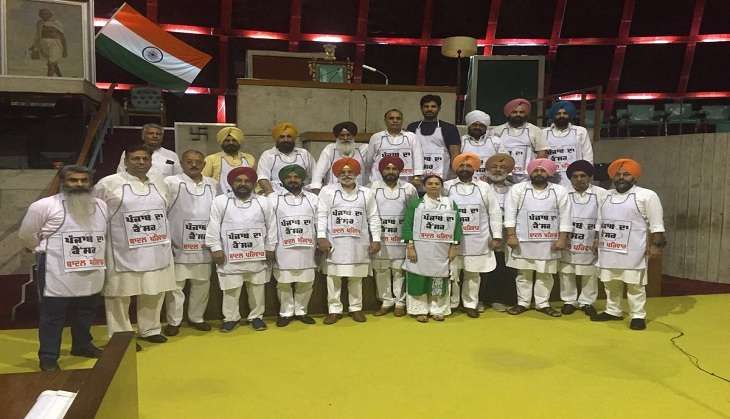 As a reaction to having lost a no-confidence motion, 27 Congress MLAs camped inside the Punjab assembly as a part of an unprecedented protest against the state government.
"All the Congress legislators participated in the day-long protest over the Speaker's refusal to allow our members to speak on a no-confidence motion," Congress Legislative Party leader Charanjit Singh Channi told IANS on 13 September.
"Our protest inside the assembly would continue till the house assembles on Wednesday," Channi added.
After the assembly was adjoured on Monday evening, the Congress MLAs, including four women legislators, refused to vacate the premises and insisted on staging a protest till assembly resumes on Wednesday. Their demands included a fresh debate on the no-confidence motion against the ruling Shiromani Akali Dal-BJP alliance.
"They keep switching off our lights and air-conditioners. We have no food and water for long hours. But we are fighting for Punjab and will not let the government browbeat us," Charanjit Singh Channi told Hindustan Times.
Protesting MLAs inside Pb assembly don slogan aprons. Sit in now on for 17 hours @htTweets @HTPunjab @RajaBrar_INC pic.twitter.com/Wkx5jhsPvK

— Chitleen K Sethi (@ChitleenKSethi) September 13, 2016
Of the 42 Congress legislators in the assembly, it was the younger brigade, along with Sunil Jakhar, who staged the sit-in. Some of the senior MLAs joined the protest on Tuesday morning. Punjab Congress chief Amarinder Singh is expected to meet the protesting MLAs today as a mark of solidarity.
The sit-in appeared to be the opposition's last ditch effort at garnering public attention with 14 September being the last day of the assembly sessions before the state polls begin in 2017,