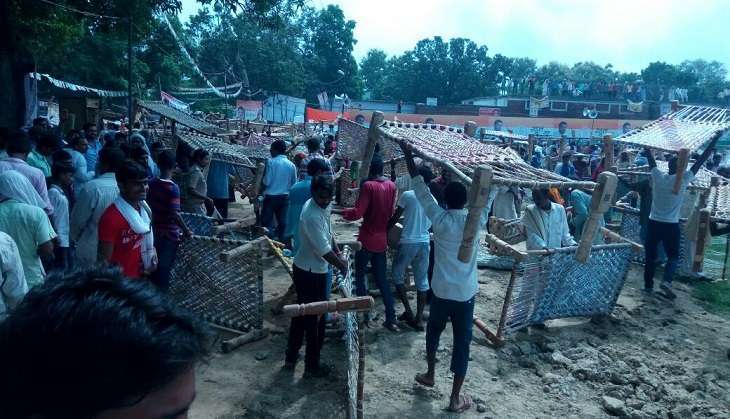 The Bharatiya Janata Party (BJP) has alleged that the people of the country do not take Congress vice-president Rahul Gandhi seriously and that the latter's attempts to prove himself as a credible leader is only leading towards failure.
Taking a jibe at the Congress party, BJP spokesperson Sambit Patra said that chaos and confusion after the completion of Rahul's 'Kisan Yatra' rally, clearly exposed the Congress party.
"As far as Rahul Gandhi is concerned, today in fact the Congress Party has been exposed. We saw as to how people had come for Rahul Gandhi's rally and there was absolute chaos and confusion after the completion of the rally," Patra said.
Also read:Congress' Kisan yatra: Farmers fight over khaats as Rahul tries to reach out to masses
"The message is that Rahul Gandhi continues to be a non-serious natured leader. Leader of non-issues, as far as people of Uttar Pradesh is concerned as far as people of India are concerned and Rahul's umpteen attempts to show that he is the credible leader is only leading towards failure and nothing else," he added.
Stating that the people had not come to listen to Rahul Gandhi, Patra said, "They do not attach any importance to him. It is clear now that people had come for the cots, people took the cots and went away."
Rahul Gandhi earlier today reached out to the farming community while cornering the Centre and Samajwadi Party Government for not addressing their concerns despite making tall claims.
Gandhi, who began his 2500 km-long 'Kisan Yatra' as efforts to reach out to the people of Uttar Pradesh which goes to polls next year.
The Congress vice-president had earlier said his yatra is aimed at helping the poor, farmers and labourers secure their rights.
It was the khatiyas or cots that were most in demand at Rahul Gandhi's "khaat sabha" in a village in east Uttar Pradesh today.
Soon after Congress vice president's meeting with farmers and an address to them had barely ended, locals were seen walking away with the brand new cots that had been laid out by his party.
--ANI