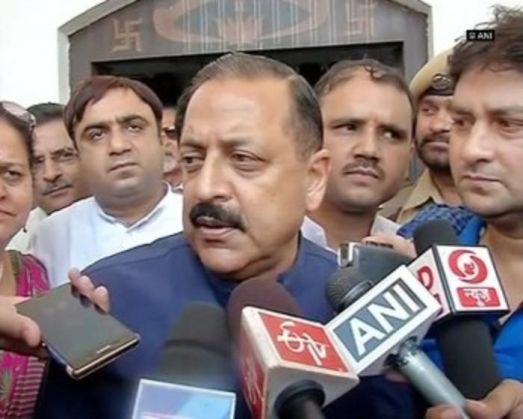 In what can be termed as a payback opportunity, the Congress party on Friday filed a complaint against Minister of State (PMO) for the Ministry of Development of North Eastern Region, Dr Jitendra Singh with the Parliamentary Ethics Committee accusing him of unethical conduct.
In their complaint, Congress allege that BJP leader Hari Krishan alias Kasooru, who is a declared absconder by the court and is currently wanted by the Jammu and Kashmir Police for a murder during the 2013 communal clashes in Kishtwar, met up with Singh at his Delhi residence on or about 13 April 2016.
This comes days after BJP leader Subramanian Swamy filed a complaint against Congress vice-president Rahul Gandhi with the LK Advani-headed Ethics Committee accusing him of declaring himself as a British citizen.
Congress's complaint included the court's order seeking the arrest of Kasooru and nine others who were allegedly accused of murdering a 52-year-old Lassa Khandey during the 2013 communal violence in Kishtwar, Jammu and Kashmir.
According to a report in Indian Express, Dr. Jitendra Singh had denied any sort of connection with Kasooru. He was quoted saying, "We meet a large number of delegations daily and many of the people are not known to us."
Furthermore, the complaint also referred to the said Indian Express report which confirmed that Kasooru, a proclaimed offender and BJP leader, has campaigned for Singh during his parliamentary elections from Udhampur Parliamentary constituency, in the year 2014, where from he is a member of the Lok Sabha. Kasooru is also believed to have campaigned for Shri Sushil Sharma, a BJP MLA from Kishtwar Assembly Constituency, which is part of Udhampur PC.
The opposition party made an appeal to the Ethics Committee to expel Dr. Jitendra Singh or take the necessary action at the earliest.