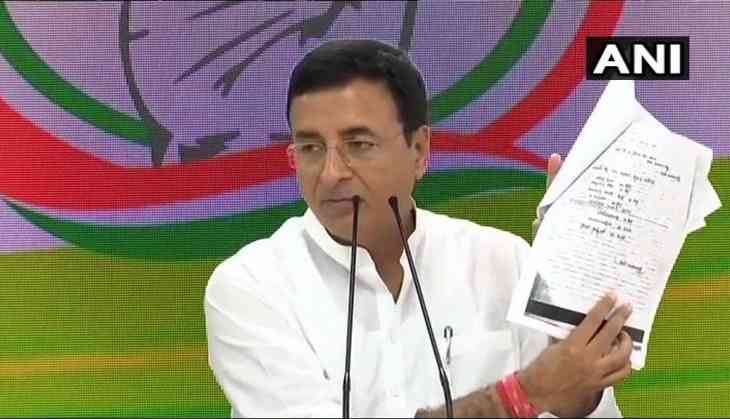 The Congress party today has alleged that former Karnataka CM B.S Yeddyurappa paid Rs 1,800 crore to the central BJP leadership, judges and advocates to clear off his name.
Quoting a report published by The Caravan, which alleged that 'former Karnataka Chief Minister B.S Yeddyurappa paid as much as ₹1,800 crore to top BJP leaders, including L.K. Advani, Rajnath Singh and Nitin Gadkari.'
Today, in a press conference by Congress spokesperson Randeep Singh Surjewala, the party claimed that "It mentions names of senior BJP leaders from Rajnath Singh to Jaitley. There is an allegation of bribe of Rs 1800 crore on the top BJP leadership," while showing the papers from the purported diary.
R Surjewala,Congress on 'Yeddy diaries' BS Yeddyurappa made payouts to senior BJP leaders during his tenure as K'taka CM: It mentions names of senior BJP leaders from Rajnath Singh to Jaitley. There is an allegation of bribe of Rs 1800 crore on the top BJP leadership pic.twitter.com/kX8liCjYmj

— ANI (@ANI) March 22, 2019
BS Yeddyurappa, BJP: Congress party and its leaders are bankrupt of ideas, they are frustrated with growing popularity of the Modi ji, they have lost the battle before it began. I-T Department officials have already proved that the documents are forged and fake. pic.twitter.com/v8lzDIfyMA

— ANI (@ANI) March 22, 2019
Surjewala further added that "Is it true or false? The diary with BS Yeddyurappa's sign on it was with the Income Tax Department since 2017. If that is the case why did Modi ji and BJP did not get it investigated?"
After the controversial claims made by the Congress party, after quoting from a report published by The Caravan magazine, BJP's B.S Yeddyurappa has responded and attacked the grand old party, saying 'the report is fake.'
Yeddyurappa said, "Congress party and its leaders are bankrupt of ideas, they are frustrated with growing popularity of the Modi ji, they have lost the battle before it began. I-T Department officials have already proved that the documents are forged and fake."
Ex Karnataka CM further added that "They have planted the story in the media to gain mileage in the upcoming elections. Issues raised by Congress leaders are irrelevant and false. I'm discussing with the senior advocates to file a defamation case against the concerned person also."
Also read: 'Mahagathbandhan' announces seat sharing; RJD gets 20, Congress to fight on 9 seats