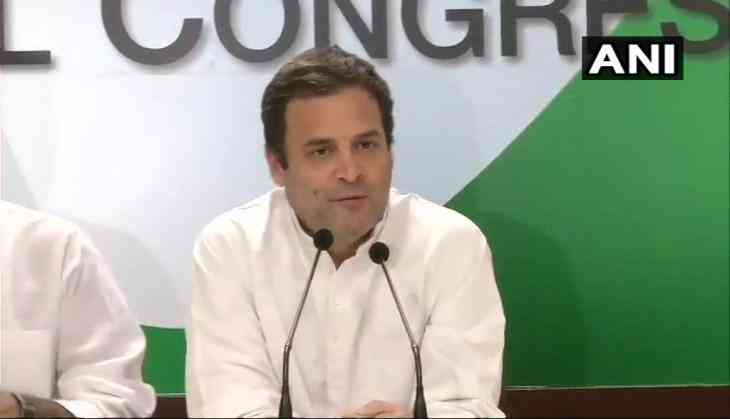 Taking a dig at Narendra Modi government's bullet train project, Congress Chief Rahul Gandhi called bullet train a 'magic train'. He claimed so because this bullet train project is going to complete during the Modi regime but it will be completed during the Congress regime.
"It should not be called a bullet train. It should be referred to as a magic train. It will never be constructed, if at all it is ever made it is going to be in Congress regime," news agency ANI quoted the Congress president as saying.
Rahul's claim that the bullet train project will be completed in the Congress regime is in sharp contrast to his earlier sayings when he dubbed it as anti-poor. Now, he is surprisingly saying that it will be got done in the Congress regime. During Gujarat elections, Rahul had said in an industrialist's meeting that bullet train is a symbol of Japan not India.
Calling it the strength of Japan not India, Rahul had said "The freight corridor would have benefited more than a bullet train…I am saying that bullet train cannot be the strength of India, because it is made in Japan. It is not made in India. If we bring the bullet train here, then it will not be India's strength; it will be the strength of Japan."
In July 2016, Rahul had taken a dig at the Prime Minister Narendra Modi for promising bullet trains. He reportedly had said that Only Modi will travel in bullet train. "Only Modi ji and his suit-boot friends will travel in it," Rahul had said in Lucknow.
Senior Congress leader and former Finance Minister P. Chidambaram also frequently attacked on the bullet train project.
"Bullet train is not for ordinary people. It is an ego trip for the high & mighty. Bullet train will be like demonetisation. It will kill everything else including safety," said Chidambaram.
Also read: Pune school dictates color of innerwear and length of skirt for girls, parents baffled; Education minister ordered probe