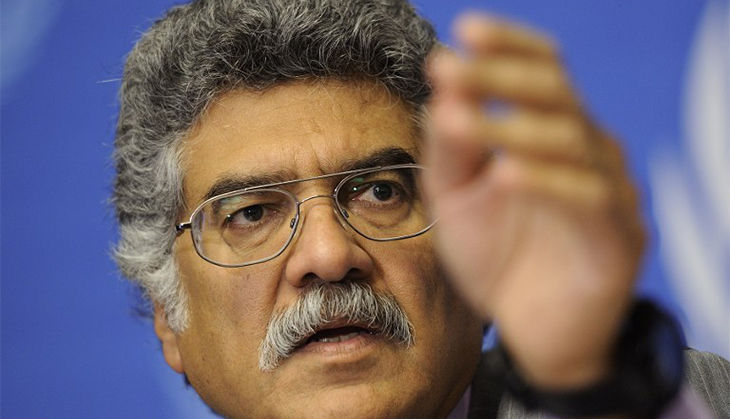 Zamir Akram, Pakistan's former permanent representative at the United Nations in Geneva and envoy at the Conference on Disarmament, said that India's chances of gaining entry into the Nuclear Supplies Group (NSG) were bleak, despite being backed by support from the United States.
Ambassador Akram was speaking at a conference on the International Nuclear Order, organised by the Strategic Vision Institute and Konrad Adenauer Stiftung yesterday, where he dismissed India's chances, reports the Dawn.
This is the second time in a month that a senior official involved with the country's nuclear affairs has made such comments. Last month, adviser to the National Command Authority, retired Lt Gen Khalid Kidwai, at a conference, said , "We also have friends in NSG who would not let it happen."
He opined that Beijing would not allow New Delhi to enter the coveted group because this would affect its nuclear cooperation with Islamabad and said that China is committed to ensuring that both India and Pakistan gain membership at the same time, reports the Dawn.
Akram asserted that some countries were upset by the "double standards" being shown in India's case.
In 2008, India received a country-specific safeguards agreement at the International Atomic Energy Agency (IAEA), which set at ease exemptions from the NSG for nuclear trade with India, despite not being the signatory of the Nuclear Non-Proliferation Treaty.
Both China and Pakistan initially opposed the India-specific agreement with the IAEA, but later withdrew the objection after U.S. pressure on Islamabad.
Talking about the global nuclear order, the Ambassador asserted that it has been destabilised due to various factors, including the world powers' double standards and discriminatory exemptions granted to India.
Meanwhile, former chairman of the Joint Chiefs of Staff Committee, General Ehsanul Haq, in the conference criticised the world nuclear order for being "highly discriminatory and obstructive".
He asserted that Pakistan's nuclear programme would continue to defend itself.
"No matter how adverse the environment, to provide us the credible deterrence against the existential threats we confront," Haq said.
--ANI