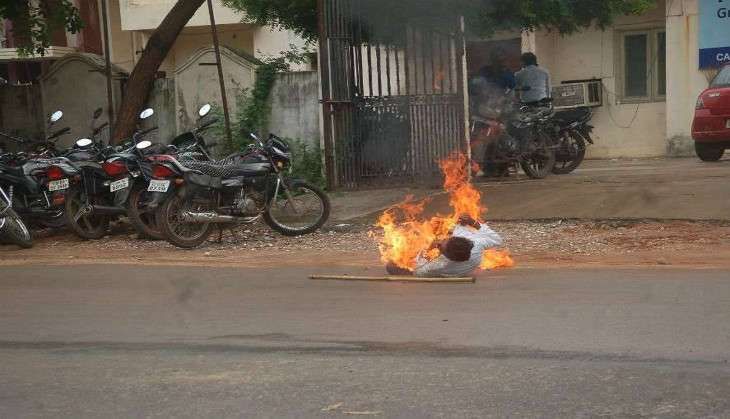 Yogesh Sahu, the disabled youth who set himself on fire outside Chhattisgarh Chief Minister Raman Singh's residence, died on 27 July.
He was being treated at a private hospital with severe burn injuries.
"He was admitted with around 85% burn injuries. We tried our best to save him, but could not succeed," Dr Sunil Kalra said.
Sahu's body has been handed over to his relatives after the post mortem. The body has been taken to Sahu's ancestral village of Bendri near Urla in Raipur district where the last rites will be conducted.
A large number of people gathered in the village to pay their last respects to the deceased youth.
Ajit Jogi's new-found party has also announced a candle march in the state capital on 27 July to pay homage to Sahu. A statewide bandh has also been called on 28 July, in Chhattisgarh.
On 21 July, Yogesh Sahu had come to the meet the Chief Minister during his Jan Darshan Programme. He was allegedly looking for a job and was in dire need of money as he needed to get his sisters married.
Sahu had reportedly submitted his application thrice during the Jandarshan Programme, asking the Chief Minister for help, but did not receive any response.
He was not allowed to enter the premises of the CM's house on 21 July as he apparently arrived late. This infuriated Sahu and he set himself ablaze at the gate of the CM's residence. He was rushed to the hospital by security guards present.
--Manish Bagh