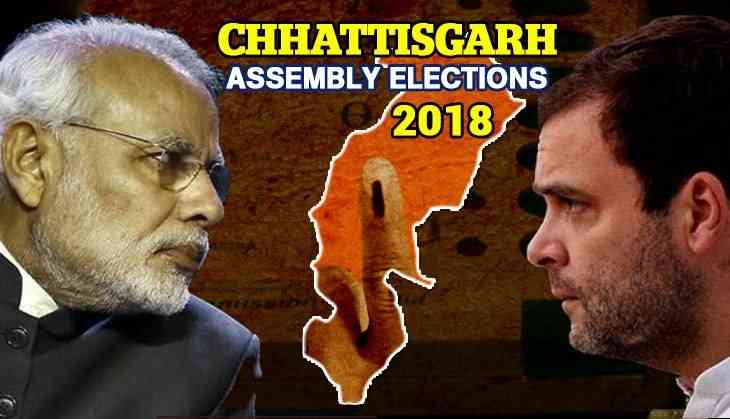 The first phase of Chattissgarh assembly elections is under way and a rumour has spread in the 18 constituencies that EVM's are malfunctioned.
The voting in the Chattissgarh polls is ongoing and until now, 17% voting has been recorded but the Election Commission has issued notification in the matter concerning the Electronic Voting Machine being malfnctioned.
The Chhattisgarh polls are being conducted in two phases by the EC, first phase consists of 18 constituencies which are under threat of Naxal attack, and the second phase consists of the remaining 72 seats.
The rumour has spread in the state that EVM's have started to get malfunctioned repeatedly, and that the elecion is rigged. But, the EC has cleared the air, stating that the information is false and no such activity took place.
The election in the state will be a mandate for the BJP which is reeling under a high anti-incumbency and it will be a referendum on the ucoming 2019 Lo Sabha polls. These state elections are being seen as the semi-final for the 2019 and the Hindi-belt holds the key for Narendra Modi led-BJP, which had managed to score 282, with the majority votes getting polled in the Hindi-belt region.
The second phase of the Chhattisgarh election will hold the key as to who will form the government in the state.
The Election Commission of India said, "Certain sources are spreading rumours that EVMs are malfunctioning repeatedly. This is to clarify that above info is false. Voting is going on smoothly. If at all, any glitches are noticed, issue is sorted out as quickly as possible."
Also read: Chhattisgarh Assembly Elections 2018: 3 IEDs detected near a polling booth in Sukma's Konta; security
Certain sources are spreading rumours that EVMs are malfunctioning repeatedly. This is to clarify that above info is false. Voting is going on smoothly. If at all, any glitches are noticed, issue is sorted out as quickly as possible: Election Commission on #ChhattisgarhElections pic.twitter.com/7n4g7XDQh4

— ANI (@ANI) November 12, 2018