After Supreme Court ruled that Karnataka will release 10,000 cusecs of water, shops and vehicles in Bengaluru and Mysuru, were attacked and set on fire.
Around 270 Cheethas - police patrol vehicles - deployed all over the city in wake of protests. Stones were pelted at lorries bearing Tamil Nadu registration number near Hubli Bypass. However, no injuries were reported.
About 15,000 police men and officers have been deployed all over the city in wake of Cauvery Protests. Quick Reactions teams,Rapid Action Force teams,City Armed Reserve police, Karnataka State Reserve Police deployed all over the city. Bengaluru-Police deployed in Tamil populated areas like Indira Nagar, KR Nagar, Prakash Nagar, Frazer Town, RT Nagar
Karnataka has stopped bus services to Tamil Nadu and police jeeps were positioned along the border to warn vehicles against entering that state. Schools and colleges closed before time in Bengaluru and metro services have completely shut down Metro services till further orders.
As a preventive measure, Section 144 CrPC imposed in Bengaluru City from 5 PM, today: #Bengaluru Police #CauveryProtests

— ANI (@ANI_news) September 12, 2016
#CauveryIssue: Security deployed near the statue of Tamil poet Thiruvalluvar in Bengaluru. pic.twitter.com/qqpjYQQYm1

— ANI (@ANI_news) September 12, 2016
WATCH: Pro-Kannada activists set a vehicle on fire in #Bengaluru during protests over #CauveryIssue. pic.twitter.com/hDTuNZULd1

— ANI (@ANI_news) September 12, 2016
#CauveryProtests: Pro-Kannada activists set vehicles on fire in #Bengaluru over the water issue. pic.twitter.com/vpGBhbF61Y

— ANI (@ANI_news) September 12, 2016
Prohibitory Order has not been Ordered to any area of Bengaluru City by @CPBlr

— BengaluruCityPolice (@BlrCityPolice) September 12, 2016
Pro-Kannada activists set a vehicle on fire in Bengaluru during Protest over Cauvery water issue pic.twitter.com/ne7lFzpJW1

— ANI (@ANI_news) September 12, 2016
Eight members of the Naam Tamizhar Katchi, the Tamizhaga Vazhvurimai Katchi and the Tamil National Movement, attacked the Karnataka-registered vehicles, including two buses.According to a report in the Hindu, police rushed to the spot and detained them. No one was injured in the incident. However, Superintendent of Police N. Manivannan has instructed the police to tighten security at the bus stand and parking lots.
Two vehicles were attacked in Mysuru by agitators upset over the release of water to Tamil Nadu. Mysuru police have increased their patrolling.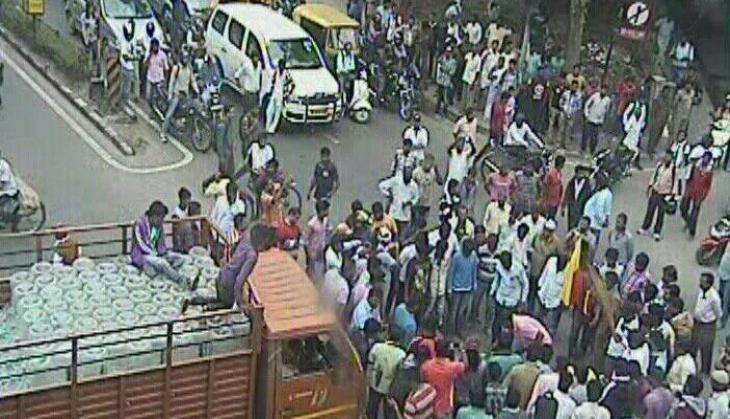 Cauvery water issue: Pro-Kannada activists stage a protest in Bengaluru, police detains protesters. pic.twitter.com/WG2XBn2LBP

— ANI (@ANI_news) September 12, 2016
New Woodlands Hotel, a Karnataka-based restaurant in Chennai's Mylapore area, was attacked with petrol bombs at around 3:45AM on 11 September, 2016. This incident has come to light a day after a video went viral where a group of people are seen thrashing a youth for allegedly posting derogatory remarks on social media.
"The attack happened between 3 to 3.15 am. Around 7 to 8 people carried out the attack. Glass panes shattered due to the stones thrown at them," NewsMinute quoted an official as saying.
According to a report in IBTimes, six petrol bombs were hurled at the restaurant. The police said that around 10 men entered the restaurant and shouted anti-Karnataka slogans. The group of men also damaged tables and other properties.
Also Read: Cauvery water dispute: 22-year-old engineering student's comments on social media gets him beaten up
The police said, around 15 security personnel were present at the hotel during the time of the attack. However, a letter was found which read that if Tamils were targeted in Karnataka, petrol bombs would continue to be thrown at Karnataka-based outlets in Tamil Nadu.