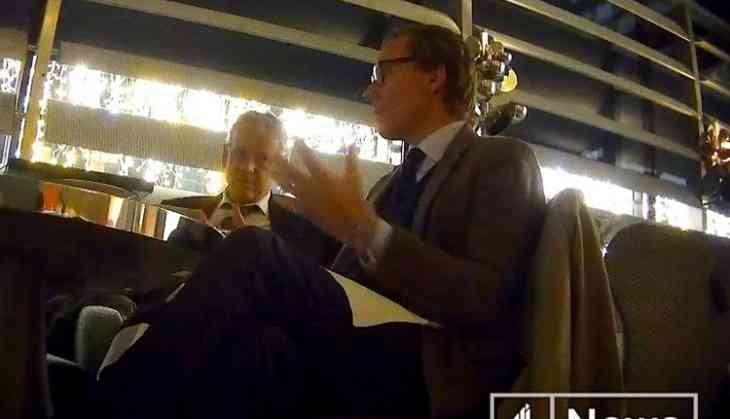 Turnbull and Nix (Channel 14 News)
As the Congress and Bharatiya Janata Party are trading charges over the links with Cambridge Analytica, it is imperative to know that how does the data company campaign for elections?
The UK and US-based company which functions in various countries including India takes credit with Donald Trump's presidential victory. In a sting operation conducted by a UK-based news channel named Channel 4 News, it revealed that the company used various illegal methods bribes, ex-spies, fake IDS and sex workers to campaign for elections.
The channel secretly filmed senior executives of the company in which they are heard to describe the methods they used to campaign for the elections. The company secretly campaigns in elections across the world through a web of shadowy front companies or by using sub-contractors.
In order to dig up information about political opponents, they "send some girls around to the candidates' house. They further add that they send Ukrainian girls who are 'very beautiful' and achieve the target.
One of the executives Mr Nix said "We'll offer a large amount of money to the candidate, to finance his campaign in exchange for land for instance, we'll have the whole thing recorded, we'll blank out the face of our guy and we post it on the Internet."
This all was revealed by the undercover reporter for the channel who masqueraded as fixer for a wealthy client hoping to get candidates elected in Sri Lanka.
Apart from Mr Nix, the undercover reporter also had meetings with Mark Turnbull, the managing director of CA political Global and the company's chief data officer Dr Alex Tayler.
Turnbull described how they obtain information about opponents and circulate it on social media. ""… we just put information into the bloodstream of the internet, and then, and then watch it grow, give it a little push every now and again… like a remote control. It has to happen without anyone thinking, 'that's propaganda', because the moment you think 'that's propaganda', the next question is, 'who's put that out?'," said Turnbell to the reporter.
How the company functions in foreign country, Mr Nix said "Many of our clients don't want to be seen to be working with a foreign company… so often we set up, if we are working then we can set up fake IDs and websites, we can be students doing research projects attached to a university, we can be tourists, there's so many options we can look at. I have lots of experience in this."
The company is also accused of harvesting of more than 50 million Facebook profiles.