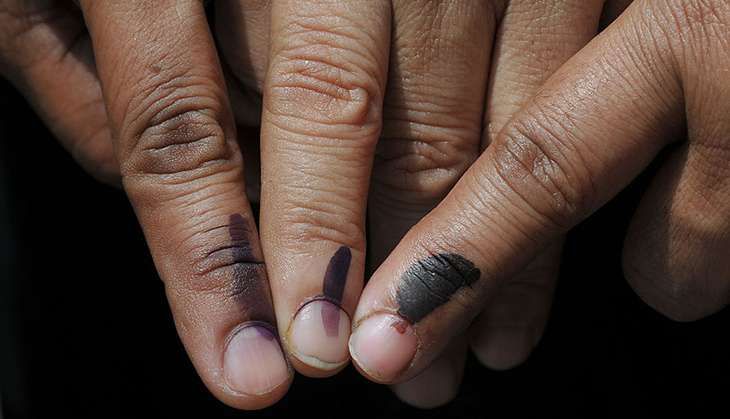 In the first elections after the move to demonetise high-value currency notes, the results of the 13 bypolls - for four Lok Sabha seats and nine Assembly seats - are trickling in.
The elections were conducted across seven states - Assam, Arunachal Pradesh, Madhya Pradesh, West Bengal, Tamil Nadu, Maharashtra and Tripura - and one union territory, Puducherry.
The Lok Sabha seats are Lakhimpur in Assam, Shahdol in Madhya Pradesh and Coochbehar and Tamluk Parliamentary seats in West Bengal.
The Assembly seats are in Assam, Arunachal Pradesh, Madhya Pradesh, West Bengal, Tamil Nadu, Tripura and the Union Territory of Puducherry.
Tripura
The Communist Party of India (Marxist) won both Barjala and Khowai Assembly seats in Tripura.
CPI(M)'s Jhumu Sarkar (15,769 votes) won by defeating his nearest BJP rival Shistamohan Das (12,395 votes) by a 3,374-vote margin in Barjala (SC) constituency.
In Tripura, the counting of votes for bypoll in Barjala and Khowai Assembly constituencies began at 8 am today, amidst tight security.
In Barjala, the counting is being held at Umakant Academy complex as well as in Khowai at the SDM Office campus hall. Counting will be done in four rounds.
Tamil Nadu
AIADMK's M Rengasamy defeats his nearest rival in Thanjavur from DMK by 26,483 votes.
After five rounds of counting, AIADMK candidate in Aravakuruchi Senthil Balaji is leading his DMK rival by 7,756 votes.
In Thiruparakundram, the AIADMK lead so far is 39,942 votes as against DMK's 28,370.
Assam
In Assam, the Bharatiya Janata Party (BJP) is leading with 24,312 votes in the Lakhimpur Lok Sabha seat, while the Congress is presently at the second position with 12,484 votes.
BJP candidate from Lakhimpur, Pradan Barua is leading over his nearest Congress rival Hema Prasanga Pegu by 1,42,764 votes.
Over 66% polling was reported at Lakhimpur Lok Sabha seat while over 74% voters exercised their voting rights at Baithalangso Assembly seat.
The outcome of the bypolls will be the first test for the Sarbanand Sonowal-led BJP government as well as newly-appointed state Congress president Ripun Bora.
West Bengal
TMC candidate Saikat Panja wins Monteswar Assembly bypoll defeating his nearest CPI(M) rival Md Osman Gani Sarkar by 1,27,127 votes
Parthapratim Roy of TMC ahead of his BJP rival Hemchandra Burman by 1.2 lakh votes, in Coochbehar.
In Tamluk, Dibyendu Adhikari of TMC wins Lok Sabha seat by 4,97,528 votes
Monteswar's Saikat Panja of TMC leading over his CPI(M) rival Md Osman Gani Sarkar by 90,000 votes
Madhya Pradesh
BJP's Manju Dadu wins on Nepanagar assembly seat by 40,600 votes. BJP is also leading by 10,800 votes in the Shahdol Lok Sabha seat.
In Nepanagar, 71.25 percent polling was recorded on 19 November.
BJP's Gyan Singh wins Lok Sabha seat from Shahdol
Maharashtra
Out of six seats in the Maharashtra legislative council, the Congress and BJP won two each while the Nationalist Congress Party (NCP) and Shiv Sena emerged victorious in one seat each.
Arunachal Pradesh
In Arunachal Pradesh, Desingu Pul, the wife of former chief minister Kalikho Pul is contesting his assembly seat Hayuliang as a BJP candidate.
Kalikho Kul had committed suicide earlier this year in August.
Puducherry
Senior Congress leader and Puducherry Chief Minister V Narayanasamy today won the bypoll to the Nellithope Assembly constituency defeating AIADMK's Om Sakthi Segar, by a margin of 11,144 votes