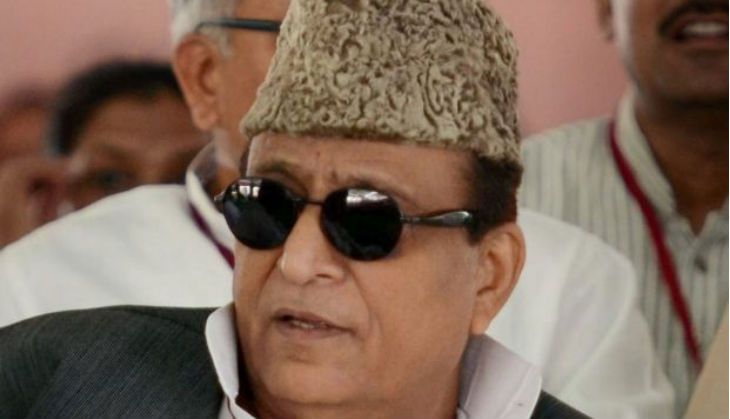 There is something about Azam Khan that keeps him in the news constantly. There is nothing that this eight-time MP from Rampur and one of the most powerful leaders in Uttar Pradesh can't say or do.
From getting a wall in Azampur named after him to accusing the Prime Minister of secretly meeting India's most wanted man, Dawood Ibrahim, Khan never fails to surprise us with his evergreen penchant for courting controversies.
Also, he is a constant cause of embarrassment to his Chief Minister Akhilesh Yadav with his statements and actions. At a time when Yadav is firefighting the political fallout of the Bulandshahr rape case, Azam undoes his efforts at damage control with a ludicrous statement.
In a shocking and utterly insensitive statement today the cabinet minister, who holds as many as seven portfolios in Uttar Pradesh, suggested that the Bulandshahr rape case could be a political conspiracy of the Opposition who are "desperate" to win the Assembly Election in the state in 2017.
While giving a political colour to a crime that was a result of the state's poor law and order system, Khan hasn't been taken to task by the party. In fact, the kind of power he wields makes it impossible even for even the Chief Minister to chide him.
Khan has a history of making controversial statements bordering on bizarre to utterly stupid. Here's a rainbow collection of the gems courtesy Khan. Each one defeats the next in stupidity quotient. Here you go:
1. His love for Dawood Ibrahim: Not only did he make news for claiming a secret rendezvous between the Prime minister and Dawood Ibrahim but once infamously said that the Mumbai attack mastermind was funding Mulayam Singh Yadav's extravagant birthday celebrations in 2014. When questioned about the funding for the grand event, an irate Khan, who has left no stone unturned to make the celebrations successful, said money has come from Taliban, a terror group, and Dawood Ibrahim, an underworld don.
"Why does it matter where the money for celebrations is coming from? Some have come from Taliban, some from Abu Salem, some from Dawood (Ibrahim), some from terrorists...," he said in an apparently sarcastic response.
2. Challenging Yogi Adityanath to prove his manhood by getting married:
BJP firebrand and Gorakhpur MP, known to make controversial statements, has been a target of Khan's acerbic tongue. Responding to Adityanath's call for increasing the Hindu population, Azam Khan said: "Yogi Adityanath should first get married and prove his masculinity. How would a Mahant know what love is ... he should first get married and help in growth of generation. They (sages) are frustrated."
3. Vitriol against Gandhi family:
Referring to the Ayodya Babri Masjid-Ram Janmabhoomi dispute, he said: "Babri Masjid ka tala khulwaya tha Rajiv Gandhi ne, pure khandaan ka naamonishan mit gaya. Yeh allah ka insaaf hai." ( The lock of Babri Masjid was opened by Rajiv Gandhi. The whole family is gone. This is God's justice.)
4. When he thought it is kosher to divide the Indian army over communal lines:
In 2014, while campaigning for the General Election in Delhi's Ghaziabad, where former army chief VK Singh was contesting, he said: "The peaks of Kargil were conquered not by a Hindu, but Muslim soldiers."
5. When he thought UP Police's foremost duty should be looking for his missing buffaloes
In February 2014, seven of his buffaloes were stolen from his farmhouse in Rampur. A team of officials from two different police stations manned an operation to hunt them down. Further, three policemen faced disciplinary action for "dereliction of duty".
6. Calling Mulayam Singh a Hijra:
Questioning the masculinity of political leaders seems to be Khan's favourite pass time. That he is not selective in his attacks is clear from the fact that he didn't exempt even his own party chief. Questioning Yadav's claims about bringing development in his constituency Rampur, Khan said: "How come he only brought development in Rampur and not in other districts of Uttar Pradesh. Did he become a Hijra in other states? Does his masculinity work only in Rampur?"
7. Naming a gate after himself and demolishing a fort built by Nawabs on the ground that they blocked sunlight:
Once upon a time, Rampur was enclosed within gates built by the Nawabs. Most of these have been demolished now. In fact, one of his letters to the municipality authority, he said that the gates built by Nawabs should be demolished because the rooms attached to them could be used for committing rape. He also had a problem with a Fort built by the Nawabs. He wanted it demolished on the ground that it blocked sunlight from entering Rampur. According to an Indian Express report, he is rebuilding a Gate named Azam ki Sarkar.
8. When he held use of mobile phones responsible for a toddler's rape:
When he doesn't see political conspiracy as a reason behind rape, he blames mobile phones but never the law and order problem of UP.
"We need to realise the truth behind the rape of a two-and-a-half-year old. The truth is the mobile phone and the things we get to see inside it without paying. In the rural areas, those who are 15 or 14 years old have access to mobile phones. I even know the films on these phones have objectionable material featuring children of age two. "How are we dealing with the mobile phone? How are we punishing it? These films are ruining the entire young generation and those who have not even come of age."
9. Inviting Shiv Sena to demolish Taj Mahal
Akhilesh Yadav has been trying to promote a tourism friendly image of Uttar Pradesh with Taj Mahal being his centrepiece.
However, his cabinet minister, in 2013, said that while the demolition of Babri Masjid made him sad, he would have happily led a mob to demolish Taj Mahal. "I would have led the frenzied crowds had they decided to bring down the Taj Mahal. Shah Jahan had no right to spend crores from the public coffers to immortalise the memory of his beloved."
In 2015, when a certain theory did the rounds that Taj Mahal was actually 'Tejomahalay', Azam Khan invited Shiv Sena to demolish the 17th century structure. He has also been quoted as saying that Taj Mahal should be declared a Waqf property and earnings from it should fund education of Muslims.