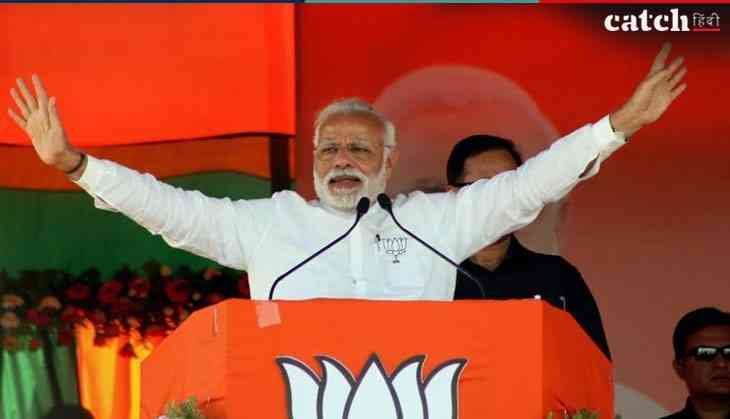 Treading a long path since its formation in 1980, BJP which is the 'world's largest political party' is celebrating its 39th Foundation Day and the Prime Minister Narendra Modi has wished its cadre, stating 'BJP has become India's most preferred party.'
"39 years ago on this day, BJP was born with an unwavering commitment to serve society and take the nation to new heights. Thanks to the efforts of our Karyakartas, BJP has become India's preferred party. Greetings to the BJP family on the Party's Foundation Day," tweeted PM Modi.
In 1980, under leadership of former PM Late Atal Bihari Vajpyee, Lalkrishna Advani among others, the Bhartiya Janta Party was formed, carving out itself from the Bhartiya Jana Sangh which was formed in 1951, under the leadership of Shyama Prasad Mukherjee, who had dissented with Jawaharlal Nehru's leadership.
39 years ago on this day, @BJP4India was born with an unwavering commitment to serve society and take the nation to new heights. Thanks to the efforts of our Karyakartas, BJP has become India's preferred party. Greetings to the BJP family on the Party's Foundation Day. pic.twitter.com/fBHp3fBQ2a

— Chowkidar Narendra Modi (@narendramodi) April 6, 2019
The @BJP4India stands tall due to it's democratic ethos and patriotic zeal. This is a Party that is always on the ground, at the forefront of helping fellow Indians. Our development work has endeared the Party to all sections of society, across the length and breadth of India.

— Chowkidar Narendra Modi (@narendramodi) April 6, 2019
Reiterating his words, PM Modi asserted the developmental works done for every section of the society by the BJP and said, "The BJP stands tall due to its democratic ethos and patriotic zeal. This is a Party that is always on the ground, at the forefront of helping fellow Indians. Our development work has endeared the Party to all sections of society, across the length and breadth of India."
Another veteran leader and External Affairs Minister, Sushma Swaraj, wished the party and workers on the Foundation Day and said, "Today is the Founder's day of Bhartiya Janata Party. I congratulate all the workers, supporters and well-wishers of our party. May our party win 2019 Lok Sabha elections with a thumping majority."
Also read: 'Be careful in future': EC warns CM Yogi Adityanath over 'PM Modi's army' remark