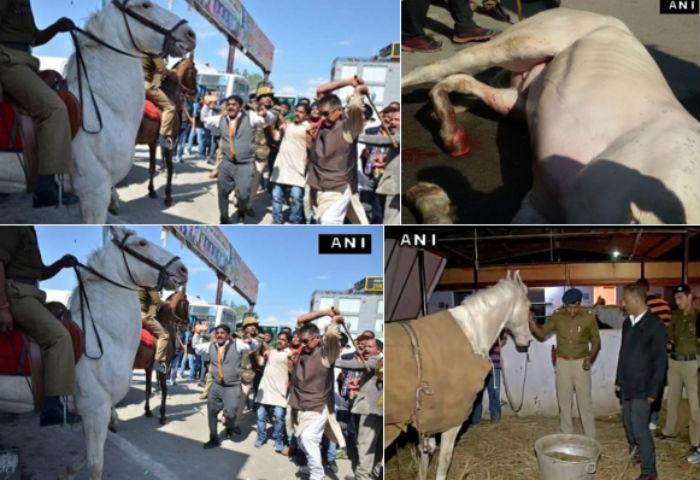 A case has been registered against Bharatiya Janata Party MLA from Mussoorie, Ganesh Joshi, for allegedly beating a police horse and breaking one of its legs, during a protest against Uttarakhand Chief Minister Harish Rawat.
Dehradun Police registered a case on Monday against the act, which occurred as a mob protested the CM's alleged misuse of funds.
A video being circulated on the social media shows Ganesh Joshi using a lathi to hit the forelegs of the horse. However, the BJP MLA told Catch that he was not near the horse when it fell down and broke its left hind leg. He said that two videos had been merged in a bid to malign him.
"Two videos are being clubbed to make it appear that the horse fell down after getting hit by me. The fact is that when the horse fell down, I was not even close to the spot but I am being accused of breaking the hind leg of the horse."

"I never got close to the hind legs of the horse but all kinds of accusations are being levelled against me by my opponents."
On being asked why he attacked the animal in the first place, Joshi claimed it was in retaliation to police brutality on the demonstrators protesting against the Chief Minister.
He claimed the police first attacked the protesters, which caused them to retaliate. "But no one is talking about the police brutality against the workers who got injured," he said.
Here's the video that is making the rounds:
Joshi has claimed that the videos were merged to make it appear as though he broke the horse's leg. The video cuts abruptly and appears to have been merged at the 0:56 mark.
Joshi later posted the following video on his YouTube page:
The BJP MLA admitted that one of supporters were involved in the incident which led to the horse being injured. "I have extended full support for the treatment of the horse and I'm personally supervising the treatment," he said.
The MLA's team also sent Catch this video:
According to media reports, the horse's leg may be amputated. Dehradun Chief Veterinary officer Dr RS Negi told ANI that first aid and mobilisation devices have been used for the horse. Dr Negi said the medical condition of the horse was not serious, but added that problems could arise should the horse contract septicaemia. He said:
"Our two-three teams are here. Necessary treatment has been given, there is some relief. The Chief Minister has given orders to call experts. The team will arrive tomorrow. X rays will be done. It is a well-trained horse cross breed horse."
Chief Minister Harish Rawat has directed that additional medical assistance could be sought from Tamil Nadu veterinary hospitals if required. He said all the expenses for the treatment of the horse would be borne by the state government.
(With inputs from ANI)