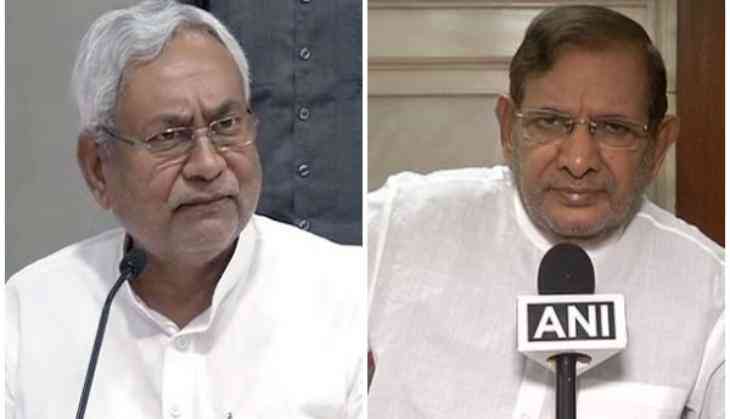 BJP confident of Nitish 'neutralising' Sharad Yadav's revolt
The Bharatiya Janata Party (BJP) on Sunday said that senior Janata Dal (United) (JD (U)) leader Sharad Yadav is unable to come to terms with the recent alliance forged with the saffron party, adding the reason behind his dissention is unclear.
"There is a vertical split now in JD (U) over the alliance with the BJP. Sharad Yadav is unable to come to terms with the change and he is disagreeing with the Chief Minister Nitish Kumar. Yadav is a soul fighter and I am unable to understand the reason behind his dissention, because the Chief Minister has categorically said that all decisions have been taken after due consultation and with the consent of all the party members," BJP leader S. Prakash told ANI.
He further said that Yadav does not command any numerical stand in the current activities of the party.
"He had also announced that he would put forth his point of view before the people. This is the party's point of view and calls for a disciplinary action which has been taken by Nitish Kumar. I am confident that he will handle the situation and ensure neutralising Yadav's revolt in the party without causing any more damage to it," Prakash added.
Another BJP leader Sudesh Verma said that Nitish Kumar has taken course correction because he needed someone who represents what JD (U) is saying, adding he has taken a right direction.
The JD (U) on Saturday affirmed that there is no split in the party, however, adding it's not hopeful of Yadav and Ali Anwar of attending the party meeting on August 19.
"There is no split in JD (U) as such. We are holding a party meeting on August 19, but I don't think that Sharad Yadav and Ali Anwar will come," Tyagi said addressing a press conference.
Meanwhile, responding to his replacement by Ram Chander Singh in the Rajya Sabha "due to his anti-party activities," Sharad Yadav said that he doesn't take such matters seriously.
However, Bihar Chief Minister Nitish Kumar on Friday said Yadav has every right to take his own decision as to where his loyalties lie, adding the decision to form an alliance with the Bharatiya Janata Party (BJP) was made with the consent of the entire party.
Yadav earlier on Saturday claimed that he had sent fellow party leader Ali Anwar to attend a meeting of opposition parties convened by Congress chief Sonia Gandhi so that Bihar-like grand alliance is replicated countrywide.
Anwar was suspended from the JD (U) parliamentary party for participating in the Opposition meeting called by Congress president Sonia Gandhi.
-ANI