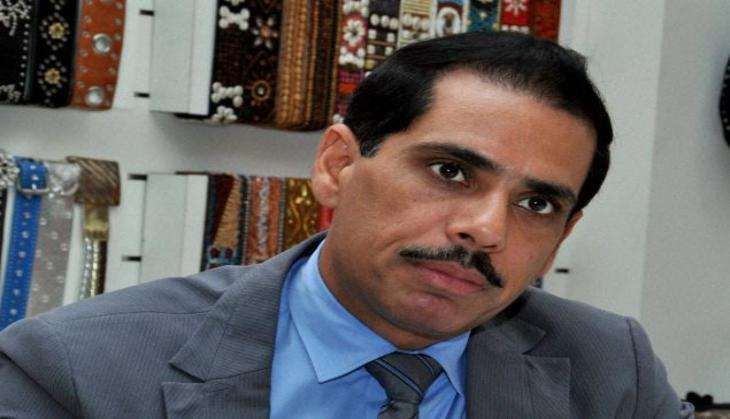 The Enforcement Directorate (ED) has issued a fresh notice to a firm linked to Robert Vadra, son-in-law of Congress President Sonia Gandhi, in connection with its probe into alleged money laundering in a land deal in Rajasthan's Bikaner district.
Officials said the summons for production of documents was issued for the second time as the agency had earlier dismissed as "unauthorised" the appearance of a lawyer in response to the notices first sent in this regard last month.
They said the firm, Skylight Hospitality, has been given two weeks time to furnish financial statements and other documents to the Investigating Officer (IO) of the case.
Last week, a lawyer had made an appearance before the ED in response to the first notice sent in the case but it was dismissed by the probe agency as "unauthorised" as he was neither carrying any relevant papers nor an authorisation letter from the company about him being their representative.
The notice has been sent after the ED had conducted extensive searches in this case in Bikaner district and other places last month and had claimed to have seized a number of documents.
The agency is expected to issue summons to a number of other people and entities involved in the case in the near future, sources said.
The probe is related to the purchase of 275 bighas land allegedly by the company in the Kolayat area of the border town of Bikaner.
The central probe agency had registered a criminal case of money laundering in this case last year on the basis of FIRs filed by the state police after the local tehsildar had made a complaint.
The ED has not mentioned the name of Vadra or any company linked to him in the FIR but it named some state government officials and some of the "land mafia".
While filing the case, it had also taken cognisance of reports that had referred to a firm allegedly linked to Vadra which had purchased some of these Bikaner located lands.
Vadra has denied any wrongdoing even as Congress party called the action "sheer political vendetta".
ED had conducted similar searches in the case in Delhi last year.
Rajasthan government had in January last year cancelled the mutation (transfer of land) of 374.44 hectares of land, after the land department claimed to have found that the allotments were made in the names of "illegal private persons".
-PTI