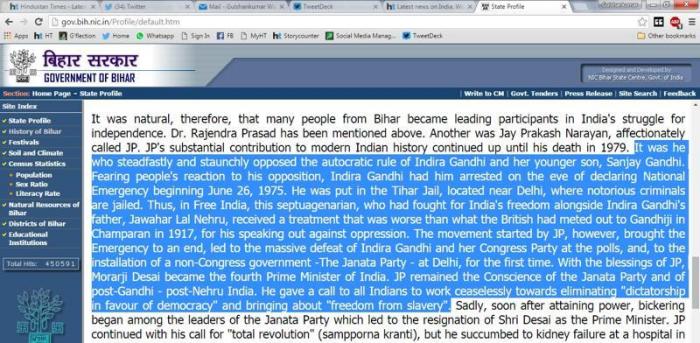 The Bihar government's official website, on 11 January, removed content which was critical of former Prime Minister Indira Gandhi. The website had described Gandhi's administration to be worse than that of the British rule.
After the report was published by a newspaper on 10 January, it led to a furore and the Congress party reacted to it in a stern manner.
"It was he (Jay Prakash Narayan) who steadfastly and staunchly opposed the autocratic rule of Indira Gandhi and her younger son, Sanjay Gandhi. Fearing people's reaction to his opposition, Indira Gandhi had him arrested on the eve of declaring National Emergency beginning June 26, 1975. He was put in the Tihar Jail, located near Delhi, where notorious criminals are jailed. Thus, in Free India, this septuagenarian, who had fought for India's freedom alongside Indira Gandhi's father, Jawahar Lal Nehru, received a treatment that was worse than what the British had meted out to Gandhiji in Champaran in 1917, for his speaking out against oppression," read a paragraph on the website.
Congress is a part of the ruling coalition in the state along with Rashtriya Janta Dal (RJD) and Janta Dal (United). The Bihar government officials claimed that they were not aware of any such content.