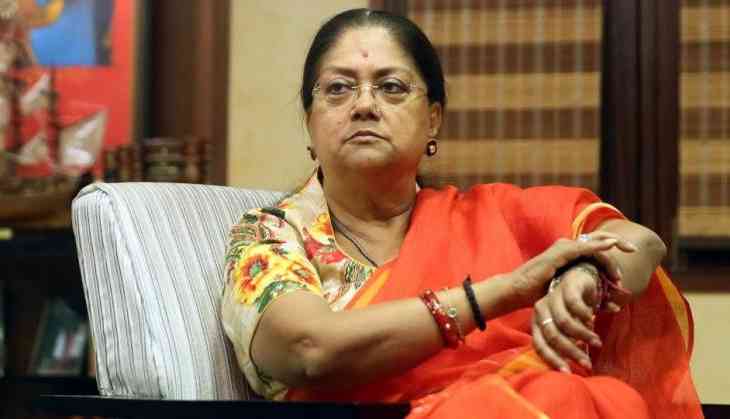 Congress-led Oppositions have called nationwide protests over a rapid rise in Petrol and diesel process across the country. At least 21 oppositions party across the country has participated in the Bharat Bandh protests. On the other hand, BJP's Rajasthan CM Vasundhara Raje on Sunday announced cutting down Value Added Tax (VAT) on Petrol and Diesel by 4%, a day ahead of the nationwide shutdown called oppositions led-by the Congress to protest runaway fuel prices.
CM Raje announced the cut-off during a programme as part of her Gaurav Yatra in Rawatsar town in Hanumangarh district. The new prices will come into effect from Sunday midnight. The VAT on petrol will be reduced from 30% to 26% and on diesel from 22% to 18%. The decision will bring down petrol and diesel prices down by Rs 2.5 per litre but will cost the state exchequer Rs 2000 crore, said Raje, reported HT.
"Our government is people's government, their voice is God's voice for us which is why we have reduced VAT on petrol and diesel. The move will provide much-needed relief to common man, farmers, traders, students, women etc," she said.
Meanwhile, Congress President Rahul Gandhi who has returned from Mansarovar Yatra to lead the Opposition called Bharat Bhandh protest against fuel prices hike has attacked PM Modi for not uttering a word over the rise of petrol and diesel prices.
Opposition leaders during #BharatBandh protest in Delhi. pic.twitter.com/ne2frJmF6Z

— ANI (@ANI) September 10, 2018
Well, After refusing to join the protest, Delhi's ruling Aam Aadmi Party (AAP) has also sent its leader Sanjay Singh. Congress Chairperson Sonia Gandhi and former prime minister Manmohan Singh have also joined Congress-led opposition parties supported bandh to protest against fuel price hike.
Top opposition leaders across the country like Sharad Pawar, MK Stalin and Left leaders have supported the bandh, while Trinamool Congress Mamata Banerjee has decided to stay away.
Also read:Bharat Bandh: 'Who is responsible?' asks Ravi Shankar Prasad on death of girl in Bihar; slams oppositions for 'violent' protests