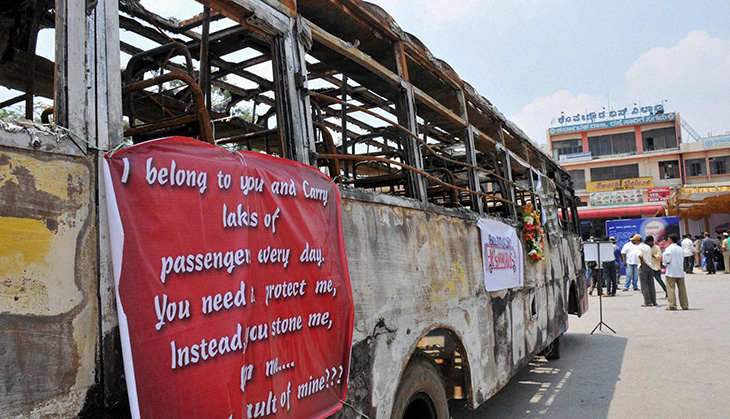 The Karnataka State Road Transport Corporation (KSRTC) has found an innovative way to demonstrate the repercussions of damaging public property by holding a 'dead' bus rally in Bengaluru.
KSRTC managing director Rajender Kumar Kataria came up with the idea of parading the buses that were burnt and damaged during public protests and outrages. He said that the idea was triggered after the last agitation by garment factory workers.
"They damaged 150 odd buses and burnt down eight buses. The Constitution that gives us the right to agitate also specifies our duty...this bus is bought with public money. It is your bus, so we wanted people to remember this," the Indian Express quoted him saying.
The damaged and burnt buses will be given an artistic touch by city artists and towed across the major roads in Bengaluru to make strong statements with banners such as 'what was my fault', and 'why was I targeted?'.
Deccan Herald reported that the KSRTC incurred a loss of about of ₹10-15 crore when protestors damaged 150 buses and burnt down eight.