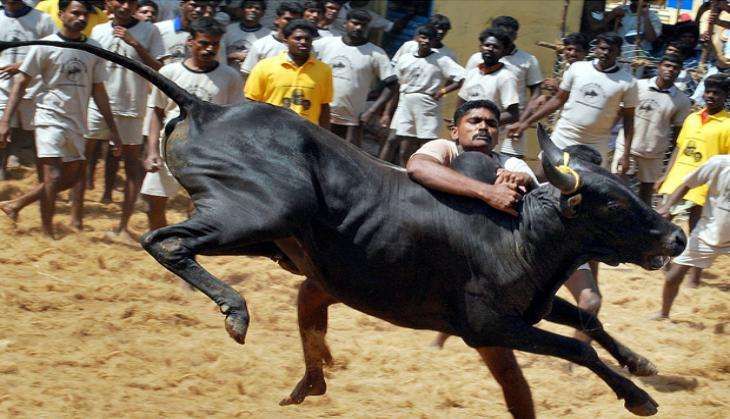 With the chorus growing louder by the day for conducting the bull taming sport Jallikattu, the Centre on 11 January assured the visiting delegation of AIADMK leaders that the Supreme Court will do justice and give a decision that will allow the festival to be celebrated as per tradition.
"So far as concerned with the animal welfare, no one in the world will have to teach Tamil Nadu, which has a great cultural heritage, on how to behave with animals. This is the culture of the society. Sure that Supreme Court will do justice and give decision and we will able to celebrate our festivals as per tradition," Union Environment Minister Anil Madhav Dave told the media here after meeting the delegation.
However, AIADMK leader M Thambidurai urged the Centre to reconsider and bring an ordinance permitting the sport, saying it represented the sentiment of the Tamil people and that the festival must be conducted this year at all costs.
"This ritual has been conducted since centuries. This issue needs to be given utmost importance and it cannot be postponed anymore. Judiciary is not the only solution," he said.
Later in the day, the delegation will meet Prime Minister Narendra Modi here seeking permission to go ahead with Jallikattu during Pongal festival.
Earlier, Tamil Nadu Chief Minister O Panneerselvam wrote a letter to the Prime Minister urging him to promulgate an ordinance to resume the sport on Pongal this year.
With a view for animal welfare, the Supreme Court on May 2014 banned the bull fighting sport.
Panneerselvam in his letter said that taking in count the groundswell of sentiment and support for the conduct of Jallikattu all over Tamil Nadu, the government of India must act with maximum despatch.
"Given that Pongal festival, which holds great importance to the people of Tamil Nadu, is less than a week away and Jallikattu is an integral part of the Pongal festivities, considering the urgency of the issue, Government of India should consider promulgating an ordinance removing the legal impediments, enabling the conduct of Jallikattu during Pongal, 2017," he said in the letter.
The Supreme Court in November last year had dismissed the plea of the Tamil Nadu government, seeking review of its 2014 judgement banning use of bulls for jallikattu events in the state.
-ANI