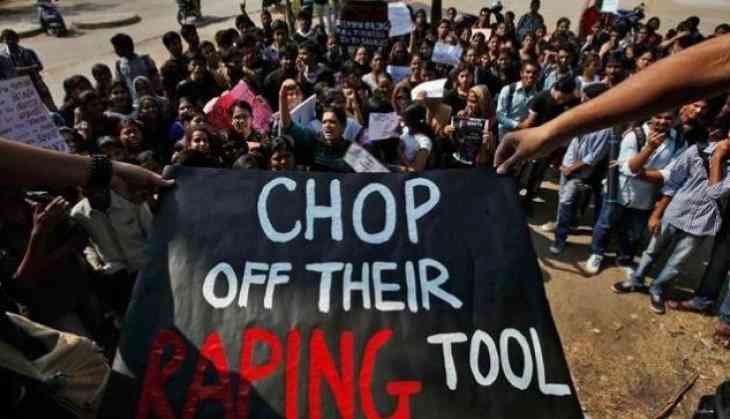 In a spine-chilling incident, a three-year-old girl was brutally raped in Jammu and Kashmir's Sumbal area in Bandipora district on May 8. The girl was found by her mother in a pool of blood, lying on the bathroom floor of a school adjacent to their house. Her clothes peeled off.
The girl's family rushed to the police to file the complaint and the accused has been arrested by the Jammu and Kashmir police. The accused, who has been arrested, has claimed that he is a minor. However, the preliminary medical examination has shown that he is not a juvenile, police said Monday.
Following the minor's rape, students, political parties and the civil society have spread across the Kashmir Valley, with calls for capital possible punishment for the accused. Itehadul Muslimeen -- a religious organisation has called a complete shutdown across the Kashmir Valley on Monday.
A protest that irked after the brutal rape in the valley and at least 60 people, mostly security force personnel including Assistant Commandant of Seema Surkhsha Bal (SSB) were injured.
The girl was lured by a boy, from neighbourhood to a nearby school and allegedly raped her. On May 8, the aunt said, "Her uncle walked her back to her house and dropped her right outside the door. She got busy playing and he left for his own house as prayer time was approaching."
Adding further the aunt said, "We went straight to the police. The boy's family said if he has done this, we will kill him, but we said we will hand this over to the police and let the law take its course," says the girl's aunt.
Meanwhile, the family of the accused has been asked to leave the village, a neighbour told Indian Express. "There was a lot of hostility post the incident here and we asked them to leave."
Medical examination has confirmed the minor has been raped and the arrested accused has been booked under rape charges and POCSO (Protection of Children from Sexual Offences), a senior police officer said.
Also read: Delhi police apprehends absconding Jaish-e-Mohammed terrorist from Srinagar