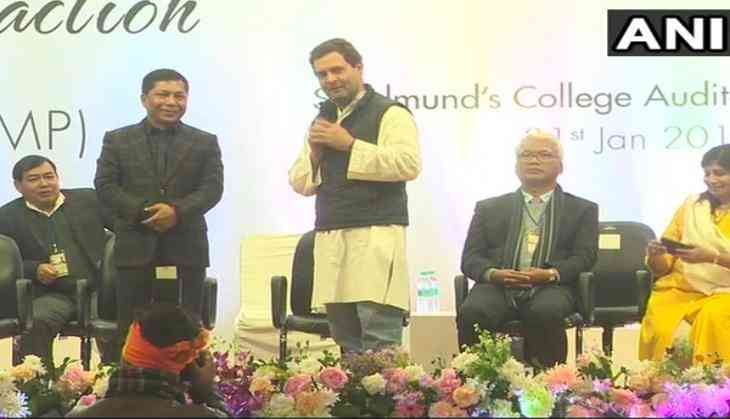 Congress President Rahul Gandhi said on Wednesday that he wanted to effect a balance between the number of men and women contesting elections in Meghalaya.
Addressing a programme at St. Edmund's College, Rahul said, "One of the most important things to be done in the Congress is to balance the number of men we put to fight the elections and the number of women. I would like to invite women to join the party in Meghalaya so that we have more and more women to choose from.
Ahead of the upcoming assembly elections in Meghalaya, Rahul zeroed in on the Bharatiya Janata Party (BJP) and the Rashtriya Swayamsevak Sangh (RSS) for spreading their ideology across the country and that there were only interested in disempowering women and giving more power to men.
Rahul further alleged that if the BJP formed its government in Meghalaya, then there would be a threat to the state's culture, religion and way of living.
Continuing his tirade against the BJP, Rahul said that the complicated structure of GST was harming the common people across the country. He stressed that the structure of the Goods and Service Tax (GST) would undergo changes if his party came back to power at the Centre in 2019.
He also criticised BJP's attitude of ignoring small and medium businesses and were supporting only businessmen in the country.
The Congress President is currently in Shillong to kick off the election campaign of the party in poll-bound Meghalaya.
The polling for the 60-member state assembly will take place on February 27 along with Nagaland. The results will be declared on March 3.
--ANI