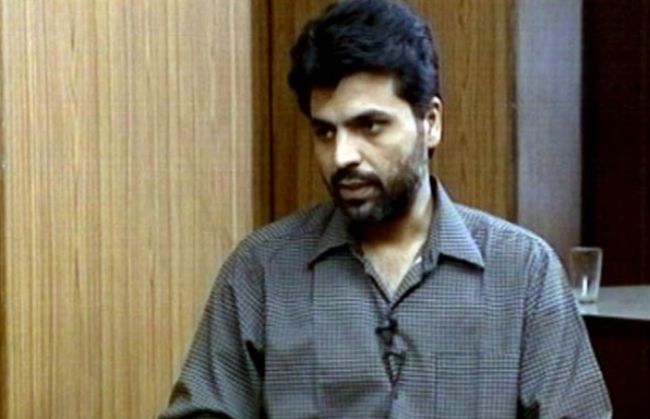 Will 1993 Mumbai blasts convict Yakub Memon be hanged on 30 July or not? On July 23, Memon had moved the Supreme Court to stay his execution, calling the issue of his death certificate "illegal". A mercy petition is pending before the Governor of Maharashtra too.
On a day that saw some political leaders turning Memon's death penalty into a 'persecution of minorities' issue, Rediff.com released a previously unpublished article written by the late B Raman in 2007 that gives ammunition to those arguing in favour of mercy for Memon.
Bahukutumbi Raman, one of the most distinguished officers of the Research & Analysis Wing and former Additional Secretary in the Cabinet Secretariat, wrote this article on 7 August, 2007 and left it in the care of his brother, B S Raghavan, a retired IAS officer.
During his time as the Head of the Pakistan Desk of the R&AW, Raman supervised the operation that brought Yakub Memon back to India from Nepal. Her also supervised Memon's initial interrogations while he was in the custody of Indian intelligence.
Given below are details of the article he wrote for Rediff in which he argues that the punishment awarded to Yakub Memon must be scaled down. In Raman's opinion, the authorities were in a hurry to award the death sentence and did not fully take into consideration what he calls 'mitigating circumstances'.
'The prosecution was right in saying that Yakub was arrested in Old Delhi. Yakub was right in claiming that he was not arrested in Old Delhi'
Yakub Memon had made his way to Kathmandu to consult a lawyer friend about the way he and his family should proceed. This was July 1994, a year and four months after the deadly 1993 blasts in Bombay. He was in Karachi and reportedly suspicious of the motives of Pakistan's intelligence agency, the Inter-Services Intelligence (ISI). He reportedly wanted to surrender but was advised by his lawyer friend to return to Karachi as there was no guarantee of justice from the Indian legal system.
Memon was to fly back to Karachi but was intercepted and identified by the Nepal police and informally interrogated there by Indian intelligence officers. He was then flown back to the Aviation Research Centre (ARC) of the R&AW in Delhi. Memon's formal arrest took place in Old Delhi.
Raman's argument, Yakub's defence
Raman says that Memon cooperated fully with the intelligence authorities in India. On assurances from India, he even convinced his relatives in Pakistan to 'escape ISI protection', and return to India via Dubai. Raman believes that this fact alone should count as a 'mitigating circumstance' for Memon.
Raman also makes it clear that Memon and his family were not involved with ISI operations before July 1994. And he makes a case for a serious reconsideration of the death penalty awarded to Memon.
Raman's defence of Memon is particularly convincing given that he was a thorough nationalist and was not against the death penalty. He wrote: "In normal circumstances, Yakub would have deserved the death penalty if one only took into consideration his conduct and role before July 1994."
Source: Rediff